Science Club is Science Friday's invitation to YOU to go out, do science, and share it with others. In August 2017, we challenged you to get the word out about the August 21st eclipse.
All you had to do was:
Create an announcement or advertisement that gets people excited about the August 21st 2017 solar eclipse and tells them how to view it safely.

Share your eclipse announcement with the hashtag #SciFriSciClub and #Eclipse2017 or submit it using the form below.

What was the big deal about a solar eclipse?
When the moon passed between the sun and the Earth on August 21st, 2017, the sun's light grew dimmer all across the country. Light shining through leaves on trees cast crescent-shaped patterns on the sidewalk. People with eclipse glasses saw the silhouette of the new moon block out some or all of the sun. Over the course of just a few hours, the moon's shadow traveled in a narrow path across the United States. Those within this "path of totality" saw the sky become so dark that stars will be visible, birds will stop singing, and the sun's corona will stream out around the edges of the moon.
The August 21st eclipse was be an awe-inspiring natural event visible by almost anyone in North America.
Shouldn't everyone know about it?
Yes, but not everyone did. And that's why we asked for your help. Here are just a few of the helpful bits of important information that we asked folks to help share about the eclipse:
Here were our instructions: You can make a poster, meme, video, tweet, snap, gram, radio commercial, flyer, photo, animation, map, infographic, art installation, or really any innovative science communication thing. The more ways we get the message out about the eclipse the better, so get creative! You could make an eclipse brochure in multiple languages, an eclipse guide for the visually impaired or demonstrate the eclipse to a little kid. You could write a song, perform an eclipse dance, or get an eclipse tattoo. Make sure your eclipse communication pursuits are lawful and you don't damage anyone's property (check out our projects policy). And lastly, whatever you do, get moving, because the eclipse is only weeks away!
Eclipse Challenge Submissions
"We decided to make a google slides and show people why it was so important to experience this awesome solar eclipse!" – Brandon, Carter, Beck, and Victor
Students in a class in Knoxville, TN helped create different ways to get the word about the eclipse, including posters, presentations, handouts, and fliers like this one made by Jayda: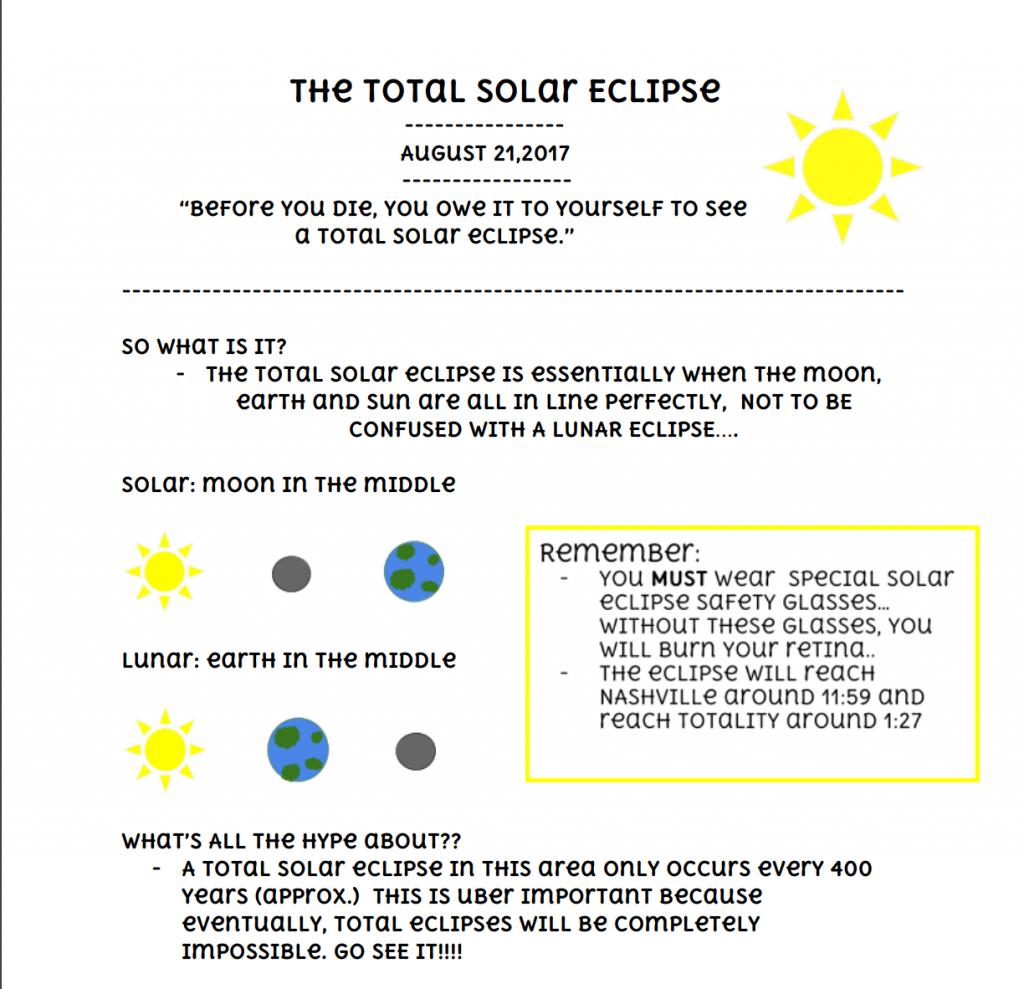 We heard about the eclipse through out school's science teachers
-Avery, Petra, and Emaleigh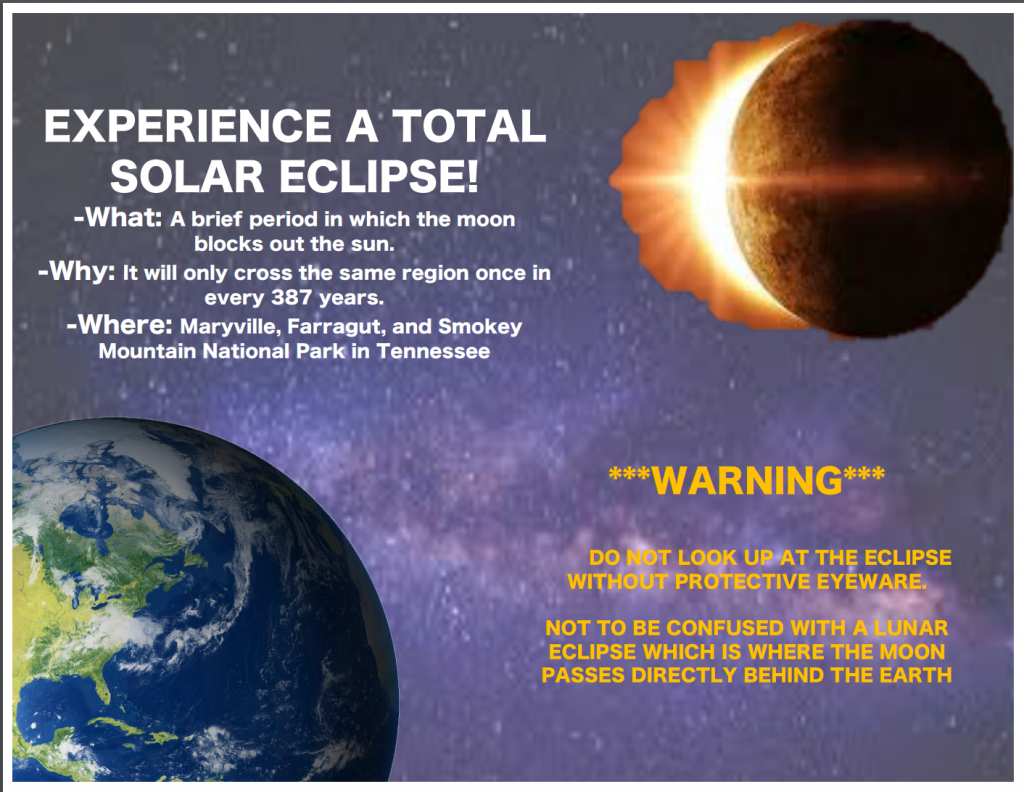 Gary set Up Telescope Screen For People to share the eclipse in process in Santee South Carolina: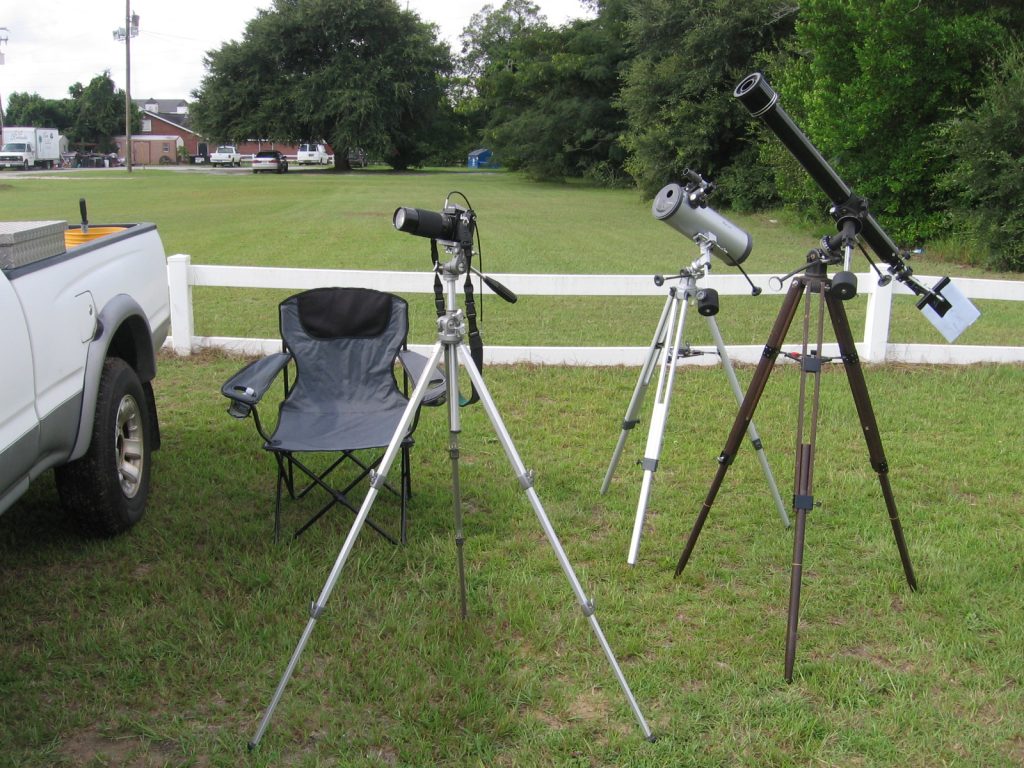 "Telling my parents, friends, and anyone who'll listen!" – Felix, who created this compelling poster: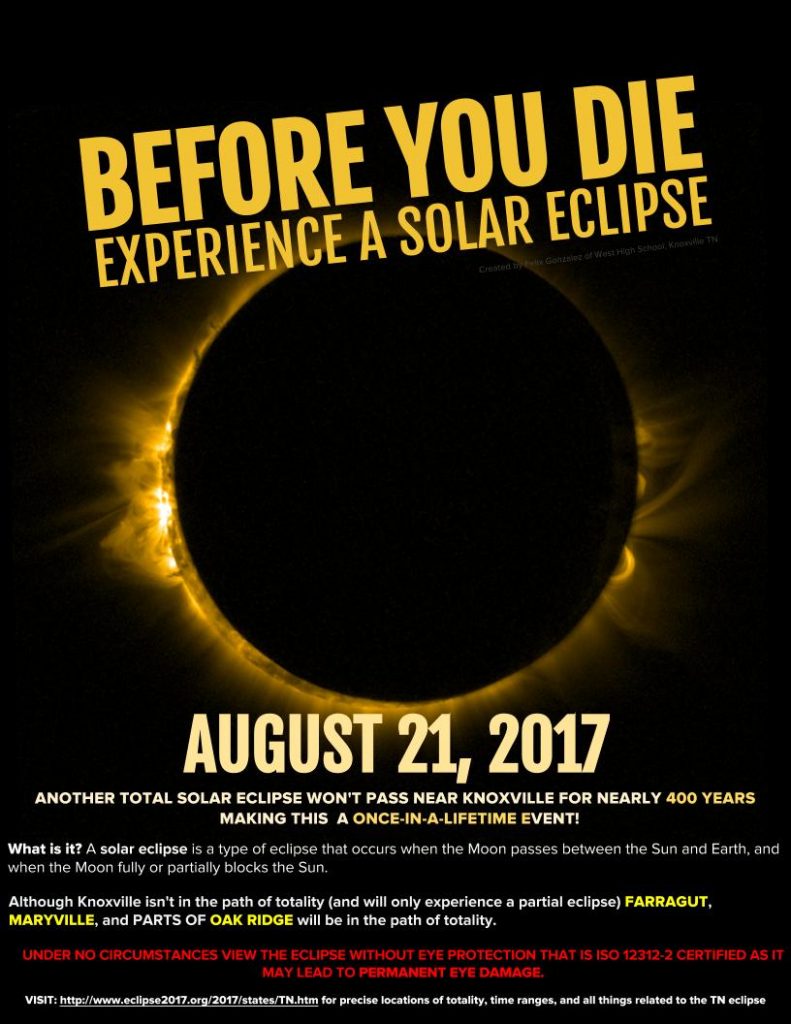 "Kenneling my pets to travel to Wy for the total eclipse so giving glasses and announcement to my kennel. (Etosha's camera shy so in flyer)" – Hazel, Fair Oaks, CA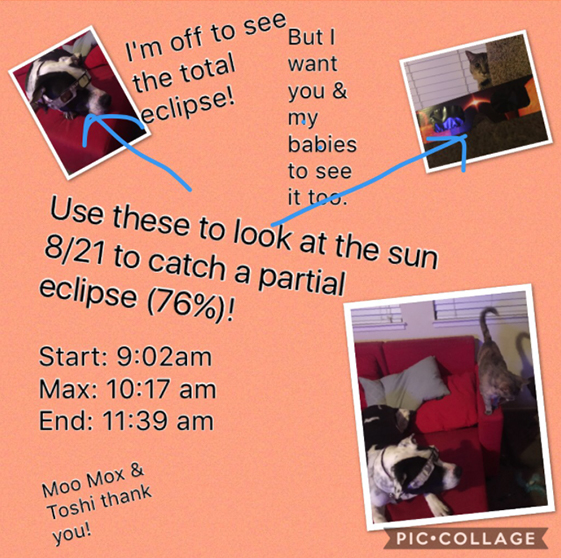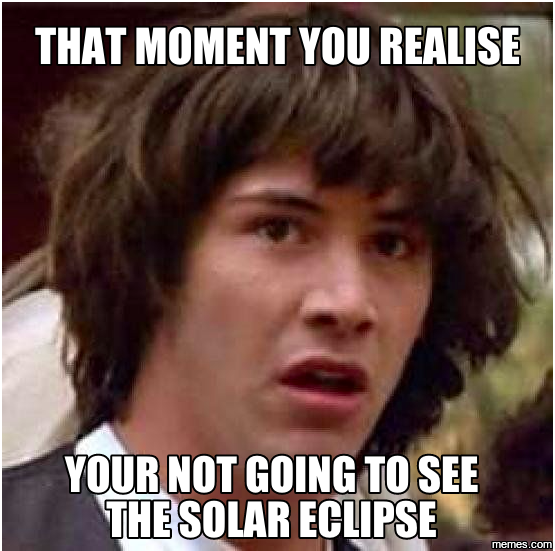 ---
Mike wrote an eclipse song for his band, The Alferd Packer Memorial String Band:
---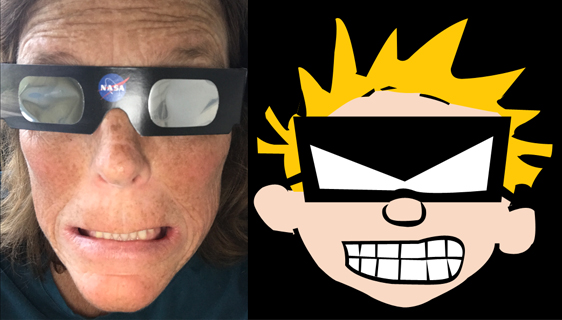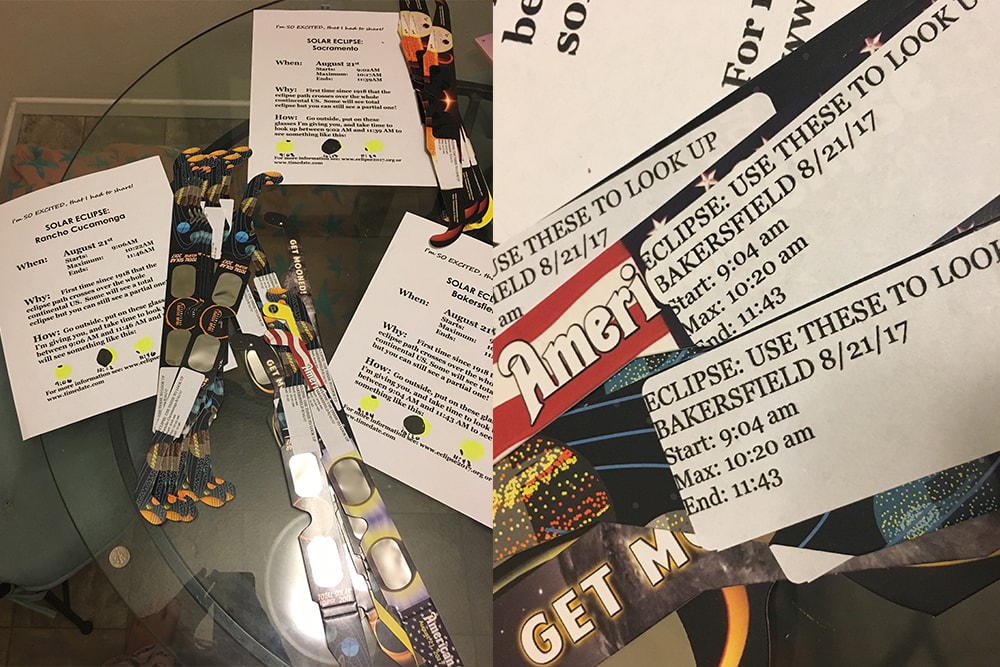 ---
Sarah K. created an eclipse party announcement, and is planning on playing this sweet eclipse-themed playlist.
---
John G. created and recorded this educational music video for students in Nashville, TN:
---
Arbed, D. of Sioux Falls, SD recommended revisiting Handel's oratorio, Samson (1743) for this eclipse verse:
Total eclipse! No sun, no moon!
All dark amidst the blaze of noon!
Oh, glorious light! No cheering ray
To glad my eyes with welcome day!
Why thus depriv'd Thy prime decree?
Sun, moon, and stars are dark to me!
---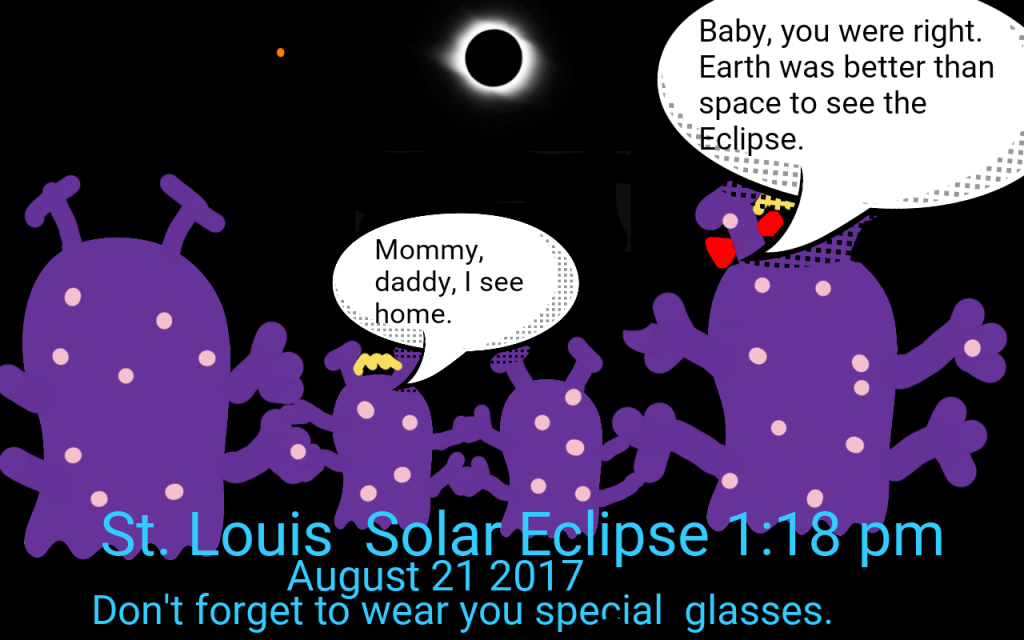 ---
Khati H wrote alternative lyrics to "America The Beautiful" encouraging people to see the total solar eclipse, and made a video to go with the song:
"I own a dentist practice and we are creating an eclipse drawing and giving passes for a Ride/Water park in Denver CO." – Dr. Dwayne of Cheyenne, WY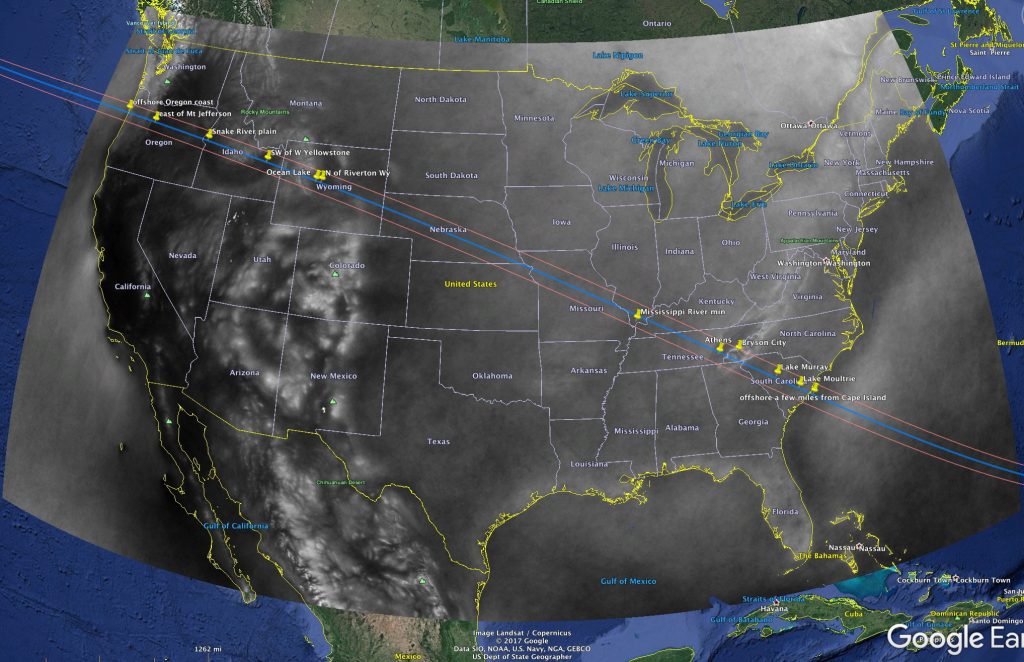 Jeff a.k.a "Dr Chordate" wrote this informative song, titled  The Ec(a)lypso about eclipses and eclipse safety, and has been performing it all over the country: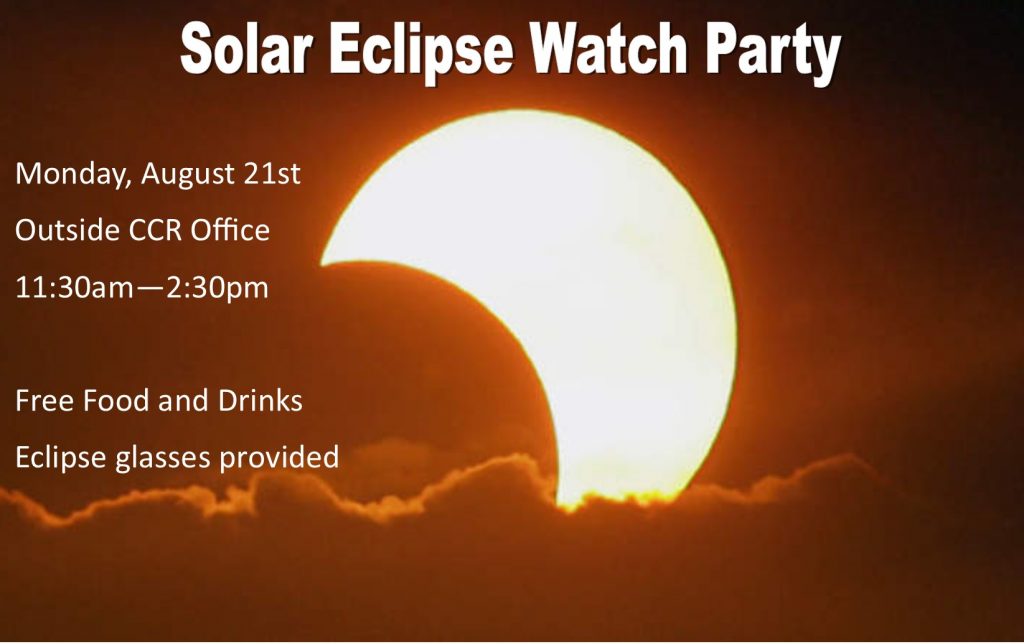 Jacklyn created a video about the high altitude balloon with 360 camera that she launched, including for capturing the eclipse & favorite eclipse facts like NASA's eclipse chase planes:
Meet the Writer
@

arieloquent
Ariel Zych is Science Friday's director of audience. She is a former teacher and scientist who spends her free time making food, watching arthropods, and being outside.