At Science Friday, we explore everything from the outer reaches of space to the tiniest microbes in our bodies using public radio and podcasting, digital and social media storytelling, and by creating meaningful communities and learning experiences for people around the country and world. We serve as a conduit of science learning and engagement, unapologetically advocating for equity in science and education by making science accessible to all, highlighting injustices, and celebrating the diversity of the human experience in STEM, our workplace, and our programming. We do all of this in service of our mission to increase the public's access to science and scientific information.
Science Friday is seeking an experienced science journalist to join our Audience Team as our new Senior Editor, Digital.
Additional details below, and be sure to apply using this online form by April 23rd at 11:59pm PST for consideration in our rolling application process.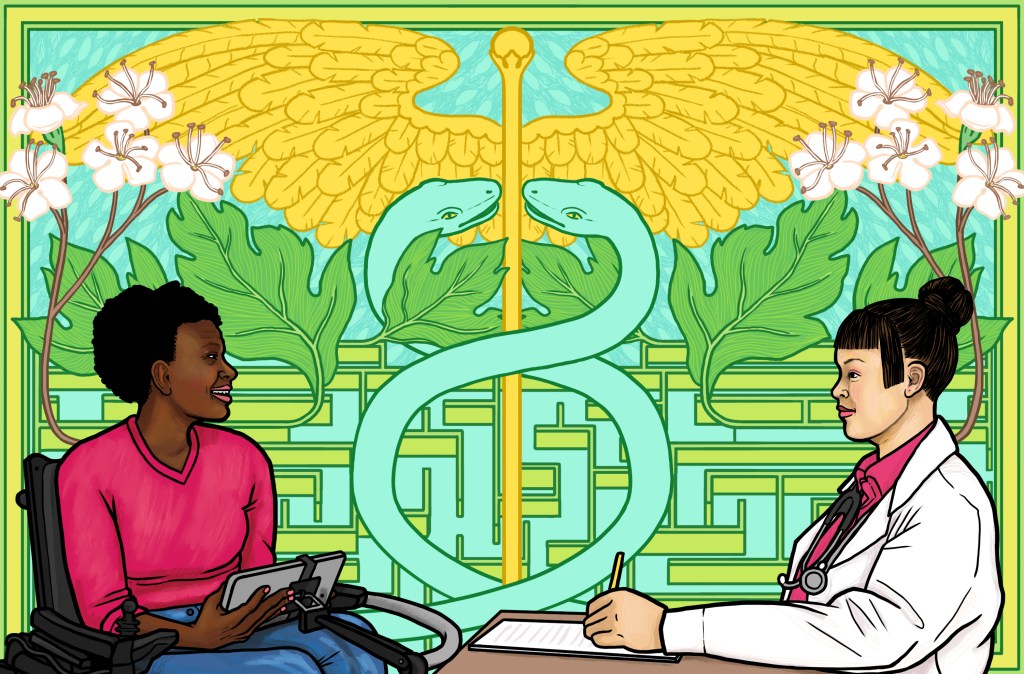 Reporting to the Director of Audience, the Senior Editor, Digital will work in collaboration with multiple other staff and freelancers to bring original science storytelling to our online audiences alongside a cohesive online experience that builds on Science Friday's radio, events, education, and engagement initiatives.
This full-time position is open for full-time remote work or can be based in our Manhattan NYC offices, with generous work from home flexibility. The Senior Editor, Digital is working as a member of Science Friday's audience team which includes experiences, research and evaluation, education, social, and digital teams. Success in this role will be measured by conventional, native metrics of audience engagement and growth online, but more importantly, success will be measured against Science Friday's vision for impact by gathering qualitative evidence of science learning, discourse, action, confidence, belonging, and sharing among audiences. Truly exceptional performance in this role will result in a portfolio of successful and innovative stories, newsletters, or other online-first engagements that use original online storytelling to generate impact. Extensive collaboration is expected for this role, whether with internal editorial and programming staff or external stakeholders, including institutions, influencers, STEM professionals, media brands, children, animals, bots, or any other entity that has value to share with science-curious publics.
The Senior Editor will have mentorship responsibilities to Science Friday's growing staff and stable of freelance writers and editors to ensure a diverse array of web-first stories and perspectives are delivered to audiences regularly, concisely, on-time, accurately, and with the utmost attention to detail and editorial quality. As the final word on editorial quality in original online stories, the Senior Editor is responsible for shepherding the written word through editing, copyediting, fact-checking, and publication, while maintaining Science Friday's internal style guide through social and paradigm shifts in the journalism community.
What we're looking for:
Someone with a journalistic background who prioritizes the audience experience in their reporting and outputs;
A remarkably curious person who finds joy in learning new things and working with others;
A person who loves finding and telling science stories on the web;
A detail oriented, generous, and collaborative editor;
A proficient project and time manager with experience wrangling multiple projects as well as freelancer editors, authors, and fact-checkers;
A purpose and principle-driven journalist who can clearly articulate the importance of equity, belonging, and accessibility.
Responsibilities Include:
Write, Edit, and Curate Original Science Stories For Web
Conceive of, report, write, and produce two monthly stories of varying lengths for web.
Collaborate closely with a community of freelancers and Science Friday's radio and digital producers to solicit, develop, and edit original stories from pitch to publication.
Seek, find, and solicit articles for syndication that reflect exceptional science, health, and technology journalism and that augments or enhances Science Friday's original coverage.
Edit web copy for clarity, style and fact-checking (radio segment pages, original articles, and from syndicated media partners), drawing on a stable of freelancers to support increased capacity requirements where appropriate.
Work with the Director of Audience to pitch and develop cross-platform and cross-department collaborations and storytelling products that serve new and emerging audiences.
Manage Science Friday's Online Presence
Manage contract developers, designers, and engineers to maintain Science Friday's website, storage, archive, and technical platforms.
Serve as a liaison between different SciFri teams and our developers to fix ongoing website problems and create new features.
Use knowledge of HTML, CSS, and Javascript to diagnose and integrate quick fixes to our WordPress site.
Keep the SciFri style guide for web updated in coordination with radio style guide and evolving social and journalistic norms.
Measure and report the size and engagement of our web audience.
Identify opportunities to improve the representativeness, inclusiveness, and accessibility of Science Friday's perennial digital content.
Integrate audience feedback into future reporting and storytelling.
Identifying opportunities to represent and serve local communities with our work.
Survey traffic analytics on Google Analytics, social media platforms, and report back to teams, utilizing these numbers to inform future reporting.
Help Our Other Work Shine On The Web
Work with Radio Producers to edit, refine, embellish, and expand upon the descriptions of radio conversations for web and podcast.
Working with the Digital Producer-Engagement, use WordPress CMS to publish all content associated with on-air, events, education, and donor programming to Science Friday's website, including licensing, commissioning, and/or embedding related multimedia, ordering and integrating transcripts, and copyediting and formatting text for consistency and style.
Craft attention-grabbing (and responsible) SEO-friendly headlines for content published to the web.
Work with the Director of News, Director of Audience, and Science Friday's Fundraising Team to ensure that syndications, partnerships, and station collaborations are accurately represented on Science Friday's website.
Occasional Organization Contributions:
Grant applications, reporting, and tracking, as needed;
Monthly expense reporting;
Attendance at annual Board meetings, as available;
Willingness to represent Science Friday at events and conferences.
Qualifications:
6 or more years of multimedia publishing and editing experience, ideally in a journalistic or marketing environment;
Thorough knowledge of journalistic principles, ethics and standards;
Demonstrated success in creating native, engaging digital stories that have deepened engagement and expanded reach;
Comfortable with copyediting following to AP style;
Experience using digital engagement metrics to drive decisions and future digital strategy;
Familiarity with HTML and content management systems,
WordPress familiarity preferred;
Demonstrated ability to work as part of a team with patience, kindness, empathy, and a sense of humor;
Experience with implementing search engine optimization, reader recirculation, and newsletter recruitment strategy.
Nice-to-haves:
Knowledge of database systems, git, and/or back-end coding languages;
Experience with data reporting;
Dual language proficiency.
Salary Range: $80,000 – $90,000 per year based on experience plus benefits.
Please apply with your resume or CV, and cover letter in this online application form.
This is an immediate vacancy. Please submit your application by April 23rd at 11:59pm PST, 2023. Interviews will be conducted on a rolling basis until the position is filled. Candidates should be prepared to participate in multiple interviews, provide evidence of past work, and references.
---
Science Friday's Commitment To Diversity, Equity & Inclusion:
Science Friday is an equal opportunity employer and is committed to diversity, equity, and inclusion. SciFri operates with the knowledge that both journalism and learning benefit from a broad range of perspectives, from all backgrounds. Diversity is essential to honest, trustworthy, accurate storytelling and promotes a healthier, happier, and more creative atmosphere. Science Friday strives for creating an institution in which all voices are encouraged, valued, and heard.
All qualified applicants will receive consideration for employment without regard to race, color, religion, sex, age, national origin, protected veteran status, disability status, sexual orientation, gender identity or expression, marital status, genetic information, or any other characteristic protected by law.
About Our Workplace:
We have a flexible leave policy that easily accommodates religious holidays, travel vacation, personal and parental leave, and sick days. We close our offices twice a year for a week for whole-staff recharge time (mid-year in July and in December for a winter break). We do not work on Thanksgiving or the Friday after.

Our building has a secure lobby with a fully handicap accessible entrance and key card elevator service. We have a flexible open office with adjustable standing desks, adjustable chairs, and large external monitors; our office also includes a small recording studio, lounge area, and a handful of flexible separate offices and conference rooms.

We use headphones a lot during the work day. We are really into office plants.

We provide 401K matching, health, vision, and dental coverage, mental health support, an FSA, and often get great science and scifi books to read for free.

We work with lots of other professionals and artists (like Abi Stevens who created the above feature image for one of our

radio stories about how the medical field can better serve the disabled community

) to increase the public's access to, and joy in, science and scientific information.