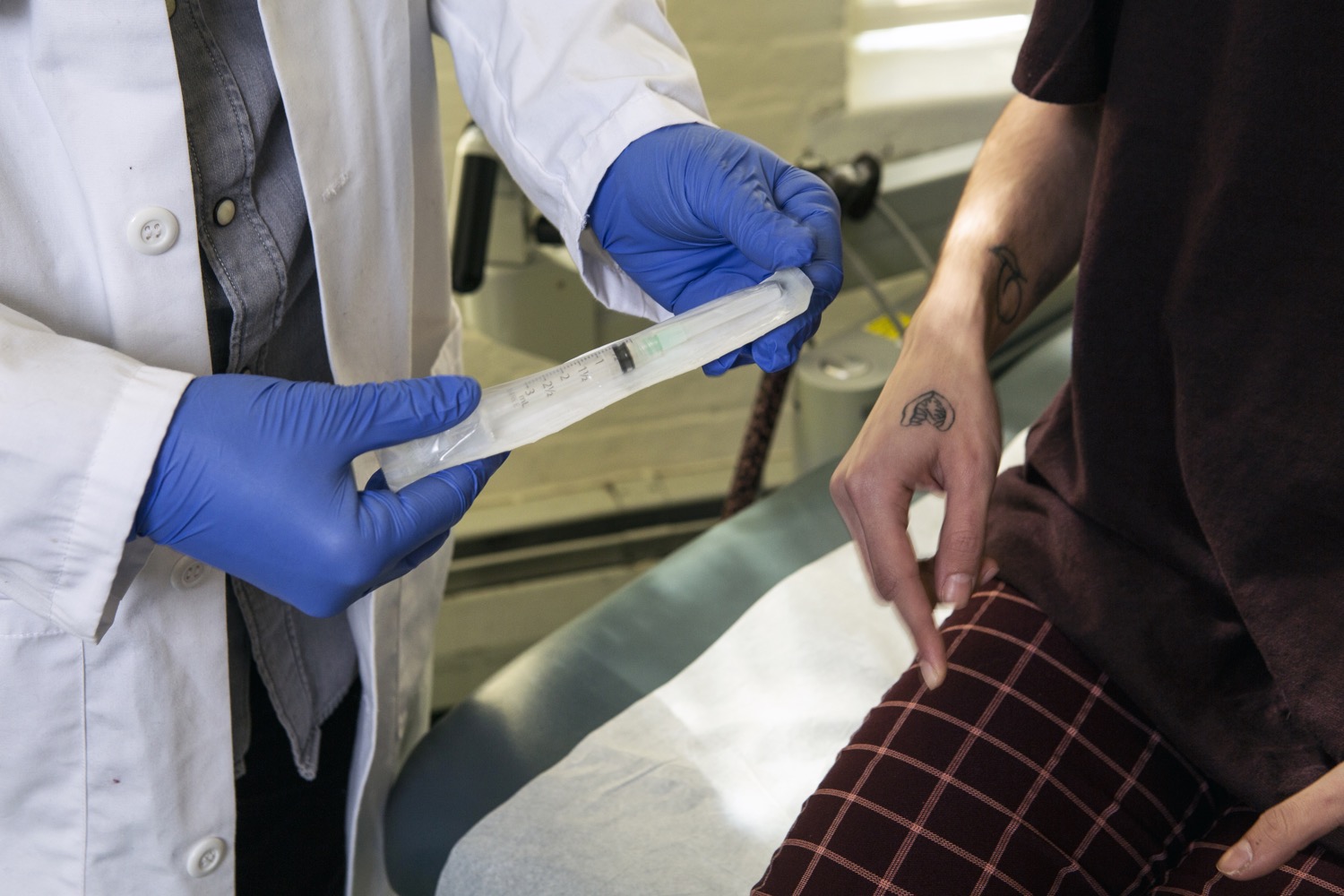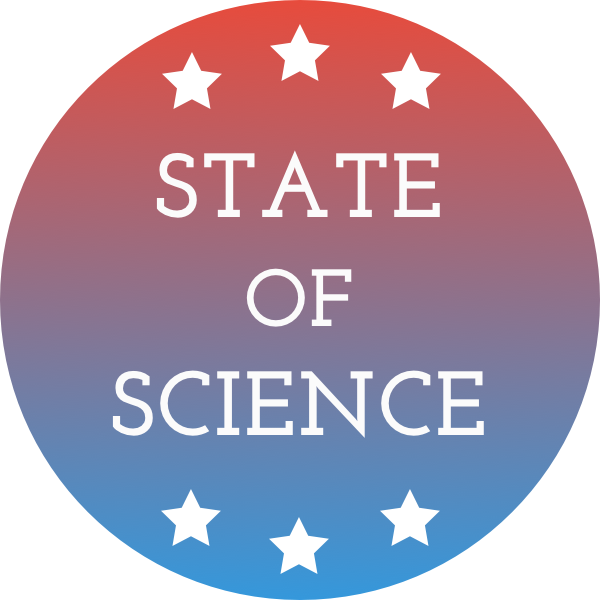 This article is part of The State of Science, a series featuring science stories from public radio stations across the United States. This story, by Sara Willa Ernst and Elena Rivera, was originally published on Houston Public Radio.
---
In light of recent attacks on transgender and nonbinary youths in Texas, Ira sits down with Houston Public Radio reporter Sara Willa Ernst, PhD candidate and researcher Diana Tordoff, and Borderland Rainbow Center executive director Brenda Risch.
You can read Diana Tordoff's full study about mental health outcomes in youths receiving gender-affirming care here.
---
Pilar Hernandez was hoping the nightmare for her family was over.
For months last year, transgender advocates in Texas fought a group of bills in the Legislature seeking to ban transition care by arresting parents and delicensing doctors who provide transition care to children. Several of those bills died, but the ordeal scared Hernandez, the mother of a 17-year-old transgender boy in Houston.
Last week, those fears resurfaced: Attorney General Ken Paxton issued an opinion that defined providing access to certain gender-affirming treatment as child abuse, leaving some parents worried about the safety of their families and some advocates concerned about the well-being of trans kids in Texas.
"I had this fantasy that this year we'll be able to at least rest a little," Hernandez said while fighting back tears. "I think we all have post traumatic stress syndrome from last year, so this brings everything back."
The AG's definition is opposed by major medical organizations, such as the American Academy of Pediatrics, the Pediatric Endocrine Society and the American Medical Association, which say these treatments are within the standards of care and often lifesaving.
They're also opposed by families who have reaped the benefits of these medications. Hernandez said her family has considered moving out of state for her son's sake, though it's not an option they want to resort to.
Her son Alexander began taking testosterone a few years ago and said the treatment has significantly improved his gender dysphoria and anxiety.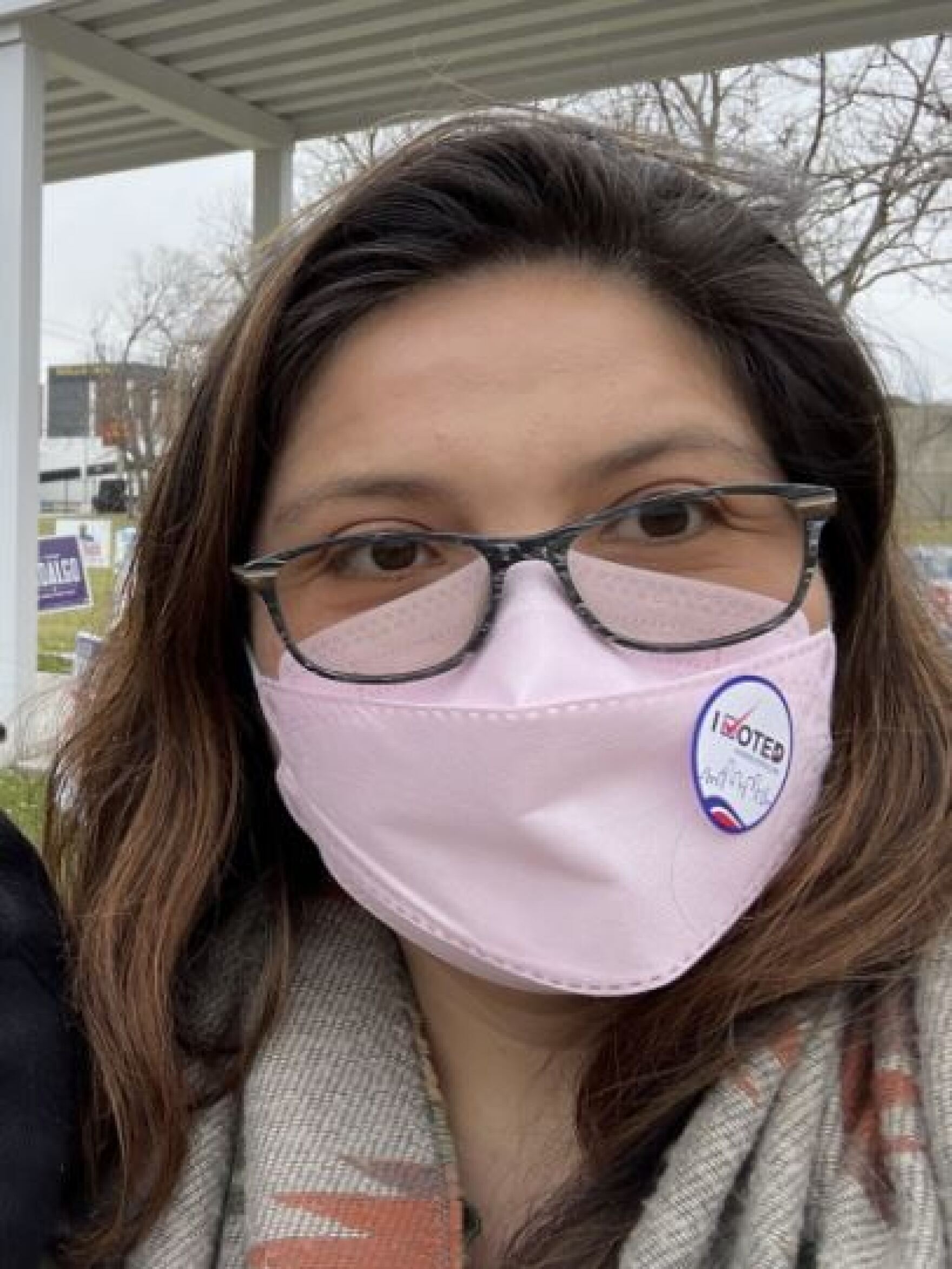 "I feel great about it," Alexander said. "It's one of the best things I've done for my health just all around."
In the nonbinding opinion, Paxton classified gender reassignment surgery — which is rare for kids — as abuse under Texas law. He also did the same for puberty blockers, testosterone and estrogen treatments, which are more common, less invasive and often reversible.
"There is no doubt that these procedures are 'abuse' under Texas law, and thus must be halted," Paxton wrote in a statement accompanying the opinion. "The Texas Department of Family and Protective Services (DFPS) has a responsibility to act accordingly. I'll do everything I can to protect against those who take advantage of and harm young Texans."
Three days later, Abbott issued his directive to DFPS, noting a requirement to report abuse among all licensed professionals in Texas.
A spokesperson told The Texas Newsroom that the Department will follow the law "as explained by the Attorney General opinion" but there were no pending cases on the matter as of last Monday.
Several district and county attorneys in Texas' democratic regions have openly opposed Paxton's opinion and said they refuse to investigate such cases as abuse.
"I will not prosecute any parent, any facility, or anyone else for providing medically appropriate care to transgender children," said Harris County DA Kim Ogg. "I will continue to enforce the Constitution and the state's criminal laws to assure the greatest degree of freedom and order that we can achieve."
There's also an open question of whether schools will be a safe space for trans kids. In the letter, Abbott said licensed professionals like teachers are mandatory reporters of child abuse.
Jackie Anderson – the president of Houston Federation of Teachers, the union representing Houston ISD teachers – said this interpretation of child abuse is disruptive to the education of students.
"We are supposed to snitch on parents who are seeking medical and emotional assistance for their kids?" Anderson said in an email. "Really?"
Houston ISD did not respond to questions about whether the district is expecting teachers to report transgender students and their families to the authorities. However, in a statement, Superintendent Millard House II said, "it's the responsibility of our district to protect all its students, including our transgender students."
Some school districts contacted by Houston Public Media said they were waiting for guidance from their legal council or the Texas Association of School Boards. Others did not respond to requests for comment. Austin's largest school district told KUT staff should reassure trans students and their families that they not be reported.
Organizations like the Transgender Education Network of Texas (TENT) say they aren't surprised by such statements from Texas leaders.
"Time after time, it's no longer a shock but it's a disappointment," said Andrea Segovia, senior field and policy advisor for TENT. "You're talking about kids that are just trying to figure out who they are."
She's concerned about the mental health impact these statements have on trans youth.
"If you keep seeing how much your state leadership hates you, do you ever feel like it's gonna get better?" Segovia said. "We say the state of Texas would rather see dead kids than trans kids thrive. And it's absolutely true, because we keep seeing these attacks on kids."
That's a concern shared by other trans care providers. Cece Cox, CEO of the Dallas-based community organization Resource Center, said statements like the ones issued by Abbott and Paxton have the effect of publicly challenging the humanity of trans Texans.
But Cox also stressed that challenges to transgender rights are happening all across the nation, making it all the more important to support families targeted by such actions.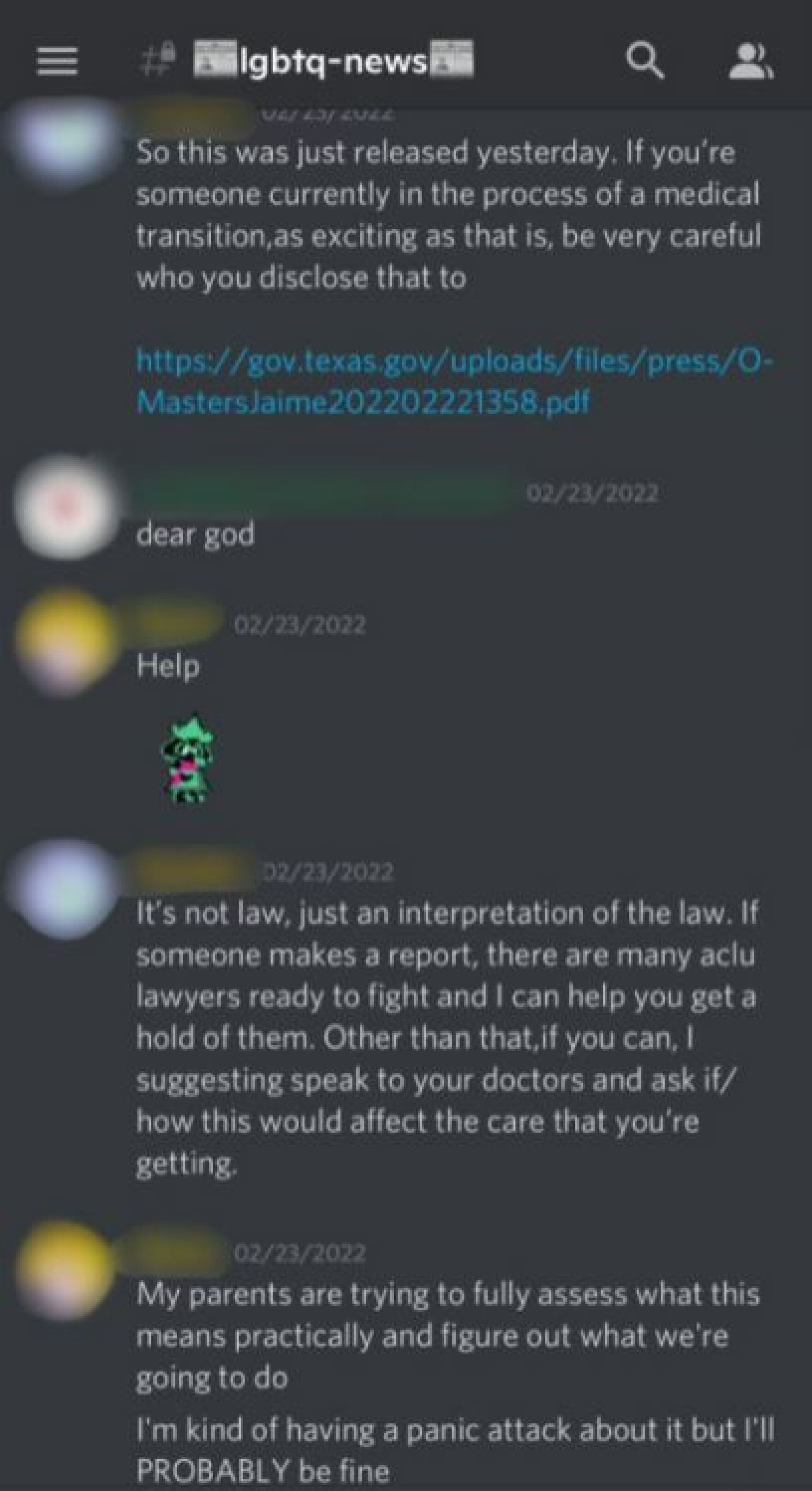 "Texas is not this crazy outlier," Cox said. "There's negative bills and positive bills being filed all across the United States. We all have to stick together in this along the way."
Providers like Dallas-based therapist Diana Diduck aren't sure how the statements on mandated reporting will affect her work with patients, many of whom she helps navigate through gender dysphoria, depression and anxiety.
She said it's an important and vulnerable step to seek care, which now feels threatened.
"Am I supposed to not provide care?" Diduck said. "Am I supposed to not refer the family to a pediatrician or an endocrinologist or to a psychologist for further evaluation? I'm very confused as to what this could mean."
Meanwhile, some transgender kids are doing their best to keep optimistic, both for themselves and their community.
Student Hayden Cohen is a non-binary 17-year-old and co-president of their schools' Gay Straight Alliance at Houston ISD. Last Wednesday, they received a rush of panicked messages from members of the club.
Cohen told everyone to keep calm, and noted it wasn't even clear yet whether such guidance from the AG would stand up under legal scrutiny.
"If anything comes up, there are resources," Cohen said. "This isn't something we need to worry too much about just yet."
"Take a deep breath," they said. "It'll be OK."
---
Donate To Science Friday
Invest in quality science journalism by making a donation to Science Friday.
Segment Guests
Sara Willa Ernst
Sara Willa Ernst is a health reporter at Houston Public Media in Houston, Texas.
Diana Tordoff
Diana Tordoff is a PhD candidate and researcher in the University of Washington Department of Epidemiology in Seattle, Washington.
Brenda Risch
Brenda Risch is executive director and a licensed clinical social worker at the Borderland Rainbow Center in El Paso, Texas.
Segment Transcript
IRA FLATOW: This is Science Friday. I'm Ira Flatow. And now it's time to check in on "The State of Science."
[MUSIC PLAYING]
SPEAKER 2: This is KERA news.
SPEAKER 3: For WWNO.
SPEAKER 4: St. Louis Public Radio.
SPEAKER 5: Iowa Public Radio News.
IRA FLATOW: Local science stories of national significance.
Transgender and nonbinary kids and teens across the country face difficult challenges. Many face stigma and discrimination for their gender identities, made worse when their families or communities are not supportive. Last week in Texas, things got even harder for these kids and their families. Governor Greg Abbott and Attorney General Ken Paxton said that gender-affirming medical care for trans and nonbinary kids should be considered child abuse under Texas law. Governor Abbott called on citizens to report parents of trans kids to the state's Department of Family and Protective Services.
The pushback against this order from families and those who work with trans and nonbinary kids has been swift. To help us understand what's going on is a reporter who's been covering this issue, Sara Willa Ernst, health reporter for Houston Public Media, based, of course, in Houston, Texas. Welcome to Science Friday.
SARA WILLA ERNST: Thanks for having me.
IRA FLATOW: OK, let's go right into this. What exactly does this order mean?
SARA WILLA ERNST: So I think it's important to note that it's not an executive order. It's a directive from Governor Abbott to the Child Protective Services, essentially saying that the agency should begin investigating families of trans children who might have access to transgender health care. So that can mean going on puberty blockers or hormone therapy like testosterone or estrogen or undergoing gender-affirming surgery like a breast reduction.
The governor is not referencing a specific law in this letter. Rather, he's pointing to a non-binding opinion that Attorney General Ken Paxton wrote. And this is based off of Paxton's legal interpretation of existing child abuse laws. And, according to that interpretation, that includes gender-affirming care.
So a lot of people, they're looking to the commissioner of the Department of Family Protective Services to see what she would do. And it looks like some investigations are already underway.
IRA FLATOW: It's interesting because, just to clarify, as you say, it's not a law. It's odd legal territory.
SARA WILLA ERNST: Yeah, it's not a law. And that's really not without trying. During last year's legislative session, there were several bills that tried to codify into law this interpretation of child abuse. Those bills, they made it pretty far out of the Senate and House committees, but they ultimately did fail. So, right now, the AG and the governor are trying to take a different legal tactic to essentially accomplish the same thing without passing an official law.
IRA FLATOW: Does this mandatory reporting mean teachers are in a tough position now?
SARA WILLA ERNST: So in the letter that Governor Abbott wrote to child protective services, it calls on licensed professionals– so, specifically, doctors, mental health specialists, and teachers– to report transgender students to the state. That's because these professions that work with kids, they're traditionally mandatory reporters of abuse. If they witness a child being abused, they have to report it or they face losing their license or even criminal penalties. So this has put a lot of teachers in a tough spot, kind of halfway between their duty as a teacher to take care of their students but also their livelihood and their profession.
IRA FLATOW: Hm. And what's the pushback in Texas looking like now?
SARA WILLA ERNST: So a lot of district attorneys and local county attorneys have come out to oppose the opinion and this directive. Some of them have said, hey, if there are cases that come across our table, we are not going to prosecute them. There also has been a lawsuit filed by Lambda Legal and the ECLU against Governor Abbott and the commissioner of Child Protective Services.
And, actually, on Wednesday, a state judge temporarily blocked one ongoing investigation into a family with a trans child. But that's just one case. Whether that is going to apply to all cases in the state, that's something that a judge will consider next Friday, on March 11.
IRA FLATOW: Interesting. And what have the families of trans kids been saying?
SARA WILLA ERNST: There has definitely been a lot of fear in the trans community right now. From the family of trans children that I've talked to, people are really trying to figure out what this directive means and whether they're going to be targets of that directive. I was talking to one 17-year-old transgender boy named Alexander that lives in Houston. And he's afraid that a lot of people are going to kind of hide further into the shadows because of this public controversy.
ALEXANDER: To be threatened with legal action and allegations of child abuse is very, very frightening. I'm also very worried for all of my trans friends. A lot of us deal with really bad depression and anxiety. And it gets significantly worsened with news like this.
SARA WILLA ERNST: I also had the chance to talk to his mom, Pilar Hernández. And they have been considering their options over the last year, whether they should move out of state or not.
PILAR HERNANDEZ: It is our home. We shouldn't be able to, you know, escape. We live in a democracy. We live in a place where civil rights, they're supposed to mean something.
IRA FLATOW: Very, very intense statements from both of them. And what comes next? What do you expect to happen.?
SARA WILLA ERNST: I think we're really going to look at what happens in this lawsuit, and whether or not the judge is going to rule that all investigations should halt right now in the state.
IRA FLATOW: Mm-hmm. Thank you, Sara.
SARA WILLA ERNST: Thanks for having me.
IRA FLATOW: Sara Willa Ernst, health reporter for Houston Public Media, based in Houston, Texas. While politicians in Texas are painting gender-affirming therapy for kids as abusive, the science behind this healthcare says the very opposite. A recent study in Seattle found that puberty blockers and gender-affirming hormone therapy significantly decreased mental health issues in the youth who received this care. Folks on the ground in Texas who work directly with trans and nonbinary youth say that's exactly what they have seen.
Joining me now are my guests, Diana Tordoff, PhD candidate and researcher at the University of Washington, based in Seattle. She's the lead author of that study. And Brenda Risch, licensed clinical social worker and executive director of the Borderland Rainbow Center, based in El Paso, Texas. Welcome, both of you, to Science Friday.
DIANA TORDOFF: Thanks for having me.
BRENDA RISCH: Yeah, thanks for having us.
IRA FLATOW: You're welcome. Diana, can you walk me through what you found in this study about trans and nonbinary kids and teens?
DIANA TORDOFF: Absolutely. Thank you for having us here today. Our study was conducted at Seattle Children's Hospital's Gender Clinic. And our goal was to prospectively follow youth during their first year of receiving care to better understand their experiences, their well-being, as well as barriers they faced in accessing care.
So we enrolled 104 trans youth, who are aged 13 to 20. And we found that youth who received puberty blockers or gender-affirming hormones were 60% less likely to be depressed and 73% less likely to have suicidal thoughts, compared to youth who did not receive these medications.
IRA FLATOW: That's a huge difference.
DIANA TORDOFF: It's huge.
IRA FLATOW: 60% to 73%. Diana, we have talked about gender-affirming healthcare on this show before. But can you give our listeners a little refresher about what that actually means?
DIANA TORDOFF: That's another great question. So gender-affirming care is a broad term that describes care provided by healthcare professionals who are affirming of trans people's gender and are trained to provide competent and inclusive healthcare services. So that means gender-affirming care includes primary care, preventative care, mental health care that's delivered by affirming providers. Gender-affirming care can also include a wide range of medical interventions such as hormones and puberty blockers, menstrual suppression, and surgeries.
IRA FLATOW: And major medical associations support gender-affirming care, right?
DIANA TORDOFF: Absolutely. These medications are both safe. And their use in adolescents is supported by a large number of medical and professional societies, including the American Academy of Pediatrics and the American Medical Association.
IRA FLATOW: Brenda, this study was based in Seattle. But does what Diana found makes sense to you, based on your experience with young Texans?
BRENDA RISCH: Yes, it does, totally. We've worked with transgender youth between ages 5 and 18, and then transgender adults of all ages, for over five years. And these findings are not a surprise to us at all, that what we see clinically echoes exactly what Diana found in her research.
And I also wanted to say that all the major psychological associations and mental health providers' associations also endorse gender-affirming care for transgender youth, so not just the medical providers, but our mental health providers as well.
IRA FLATOW: And you at Borderland Rainbow Center, you helped provide the nonmedical care also.
BRENDA RISCH: That's correct. We provide mental health counseling therapy, peer support, and then also casework and referral to medical providers. So we work closely with a pediatric endocrinologist here and several other medical providers to make sure that children have access to the medical side as well as the behavioral health side.
IRA FLATOW: I want to play a clip for you. We talked to Thomas Owsley, a staff therapist and coordinator at the Montrose Center in Houston. He works directly with trans and nonbinary kids and teens. And this is what he said about this order, how it's affecting things.
THOMAS OWSLEY: We've already seen some kids that are coming in asking questions and fearful about, like, does this mean that if I seek out gender-affirming medical care, that my parents are going to get labeled as a child abuser? Am I going to get in trouble? Like, am I going to get taken away from my parents because of this?
IRA FLATOW: Brenda, is this similar to what you've been hearing from the youths you work with?
BRENDA RISCH: Absolutely. We've heard this not only from the kiddos that we're working with, but also from panicked parents and also very concerned providers and teachers. So we've had many calls from the public as well as our clients asking, does this mean that we have to report people to CPS? So there's been a lot of concern and anger and fear and confusion about this.
We've had families make emergency plans to move to other states when possible. We've had people talking to medical providers about how to continue care if the governor tries to attack the provision of these medical interventions. Because, as many may note, these are sometimes not interventions that can just be halted. Right? Like, sometimes they need supervision for entering or exiting these processes. So there's been a lot of concern, a lot of fear, and a lot of hopelessness overwhelming children.
IRA FLATOW: Is there enough fear in the providers who might be tempted to stop giving this kind of care?
BRENDA RISCH: I feel that there are some providers who are now potentially afraid. We are not, at the Borderline Rainbow Center. We have been one of the leaders in helping to create a public response to this situation because, unfortunately, although the governor may think he does have the power to change the law, he doesn't unilaterally have that power. And so the definition of child abuse is the same in Texas as it's always been. And so people should not be reporting children.
And therefore, we've been telling everyone, and we've been working with our county attorney and other legal counsel to spread the word to major agencies and to school districts. You all may be aware, the school districts are the number one source of child protective service reports. And so we really need for teachers and administrators to be clear about how to respond to this, that they should not make reports.
IRA FLATOW: Diana, while the governor and the AG in Texas are saying giving kids gender-affirming care is child abuse, your research has shown just the opposite, correct? In fact, it seems like depriving the kids of this care could be considered abuse.
DIANA TORDOFF: Yeah, that's true. In our same study, we saw that depression and suicidality significantly increased among youth who didn't start these medications within the first three to six months of starting care. So our study also suggests that delays in prescribing these puberty blockers and hormones may in fact worsen mental health symptoms for trans youth.
IRA FLATOW: This is Science Friday from WNYC Studios.
Brenda, I know that El Paso has resources for these kids, but I would imagine that's not the case for elsewhere in Texas. I mean, are rural Texas kids more vulnerable to this order and the repercussions?
BRENDA RISCH: Yeah, I would say that they probably are, partly because their providers may not be as educated. And they may not have the resources to get referrals and consultation about this. And, in addition, rural youth are at higher risk because they don't have access to providers.
So what my colleagues' research is showing is that this kind of access can be such a crucial support to a mentally healthy child. We need family acceptance. We need access to medical care. We need access to therapy and peer support services. And that should be available for everyone. So when a family has financial barriers, when they have transportation barriers, when they have access barriers due to location, those are all problems that I think my colleagues research shows, the risks go up.
IRA FLATOW: And now, we know that this is a political year in Texas. The governor is running for re-election. The primaries were this week. Do you feel there is a bunch of politics, possibly, going on here, Brenda?
BRENDA RISCH: I do feel that there's politics going on. I think that if it weren't politically motivated, then why now? You know, it's not the first time that Texas has looked at transgender children as somehow problematic, even though I think that that's a very misguided and unfortunate way of perceiving this population.
I also wonder– I know that the GOP has traditionally been a party that urges fiscal responsibility, and conservation, and efficiency. So I'm not sure why they would want people to make false reports to child protective services, because that seems like it would generate extra work, and clog the system, and kind of prevent children who really are in danger from getting the help they need.
So it doesn't make a lot of logical sense to me. And so it makes me wonder that there must be a political agenda behind this that isn't about the actual fiscal policies that the party that the governor represents is known for.
IRA FLATOW: Diana, I know you worked on this study before this order came down in Texas, but it's clearly very relevant. Give me the big takeaway you want to leave our listeners with.
DIANA TORDOFF: Yeah, if I leave our listeners with one thing today, it's that our study just adds to an existing robust evidence base that gender-affirming care is critical for the well-being of trans people, including trans youth. And our body of research also runs parallel to another important body of research that Brenda talked about, which is that social support, especially from the families, is so critically important for these young people. And the effort that Texas is pursuing right now is actually criminalizing these two things that we know are super important for trans youth and their well-being.
IRA FLATOW: And Brenda, your takeaway?
BRENDA RISCH: Transgender children are wonderful people, and they do not deserve to be targeted in this way. I believe that free and equal access to medical care, psychological care, and peer support, and supports for families in these processes of dealing with transgender identities is crucial. It's, in fact, I think, a human right, and it should not be interfered with by the government.
I believe that the government should be encouraging people to pursue healthcare that will improve their mental health. We know that mental illness has a major impact in the lifespan and in people's productivity, in their happiness, in their adjustment, in their ability to participate fully in society. So why would we do anything to endanger that future for these children? Why not support them?
IRA FLATOW: I want to thank you both for taking time to be with us today and talking about this very important issue. Diana Tordoff, PhD candidate and researcher at the University of Washington, based in Seattle. She's the lead author on the study we talked about. Brenda Risch, licensed clinical social worker, executive director of the Borderland Rainbow Center, based in El Paso, Texas. Once again, thank you for taking time to be with us today.
DIANA TORDOFF: Thank you.
BRENDA RISCH: Thank you so much.
Copyright © 2022 Science Friday Initiative. All rights reserved. Science Friday transcripts are produced on a tight deadline by 3Play Media. Fidelity to the original aired/published audio or video file might vary, and text might be updated or amended in the future. For the authoritative record of Science Friday's programming, please visit the original aired/published recording. For terms of use and more information, visit our policies pages at http://www.sciencefriday.com/about/policies/
Meet the Producers and Host
@

katjacqueline
Kathleen Davis is a producer at Science Friday, which means she spends the week brainstorming, researching, and writing, typically in that order. She's a big fan of stories related to strange animal facts and dystopian technology.
@

iraflatow
Ira Flatow is the host and executive producer of Science Friday. His green thumb has revived many an office plant at death's door.