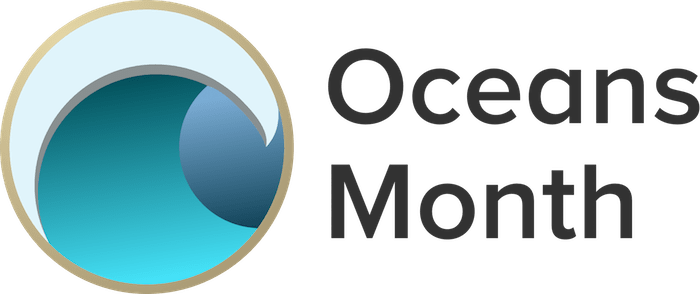 This is a part of Oceans Month, where we explore the science throughout the world's oceans and meet the people who study them. Want to dive in with us? Find all of our stories here.
---
If you've ever eaten kelp, you know it doesn't taste like much on its own. The sea vegetable is versatile in that it absorbs the flavors of the food, sauces, and seasonings it's cooked with. Maybe that's why kelp is continuing to grow in popularity in more restaurants. But where is all this kelp coming from? In some places along the New England coast, the answer is your local kelp farmer. While it has been a tradition in many Asian cultures for centuries, kelp farming only reached U.S. shores in recent decades—and in part due to its environmental benefits. Ira is joined by Science Friday video editor Luke Groskin and Suzie Flores, a kelp farmer featured in our latest Macroscope video, to discuss the new wave of kelp farming.
Get a taste with a few kelp recipes below!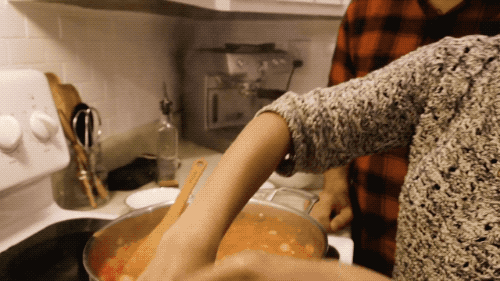 Sugar Kelp Salad
Serves 4
Salad
2 cups of fresh sugar kelp
1 small cucumber, thinly sliced
2 red radishes, thinly sliced
1 teaspoon sesame seeds
Dressing
4 tablespoons vinegar
¼ teaspoon sesame oil
1-½ tablespoons sugar
½ teaspoon minced garlic
½ teaspoon salt
1 teaspoon soy sauce
[How to cook on Mars (with a recipe!)]
Instructions
Rinse the kelp thoroughly under cold water and drain well.
Bring a medium pot of water to a boil. Plunge the kelp into the water and blanch for 20 seconds. Drain and rinse in the cold water until the kelp is cool. Drain well, and squeeze out excess water.
Cut the kelp into bite size pieces by running a knife through a few times in different directions.
In a large bowl, mix all the dressing ingredients well until the sugar has dissolved.
Add the kelp, cucumber, and radish. Toss well to combine everything together. Serve cold.
Carrot Ginger Kelp Noodles
by Matthew Kenney from Akua's The Seaweed Diaries
Kelp Noodles
2 tablespoons baking soda
2 tablespoons lemon juice
2 (12 oz) bags kelp noodles
6 cups warm water
Noodle Marinade
½ cup tamari
2 tablespoons toasted sesame oil
¼ cup agave
Carrot Ginger Sauce
2 cups of chopped and peeled carrots
¾ cup thinly sliced scallions (greens and whites)
½ cup finely minced peeled fresh ginger
¼ cup grapeseed oil
¼ cup agave
1 teaspoon tamari
2 teaspoons rice vinegar
1 teaspoon sea salt
[If you give a maggot a cookie…]
Instructions
Kelp Noodles
Whisk the lemon juice, baking soda, and warm water in a large bowl.
Remove the kelp noodles from the bags and add to the acidulated water.
Submerge the noodles in the water and let them soak for 15-20 minutes.
While the noodles are soaking, whisk the tamari, toasted sesame oil and agave together in a small bowl.
Strain the noodles and rinse with fresh water until they run clear. The noodles should be soft, but not mushy.
Sometimes the noodles are very long, so trim them with scissors to desired length.
Using a pair of tongs, mix the noodles with the marinade, and let sit for 20 minutes or until ready to serve. You can do this up to two days before using.
When you are ready to serve the noodles, strain them from the marinade and toss them in the carrot ginger sauce
Carrot Ginger Sauce
Mix together the carrots, scallions, ginger, oil, agave, tamari, vinegar, and salt in a bowl. Let the vegetables marinate for 15-20 minutes.
After marinating, blend the liquid and the vegetables until smooth.
Add more salt if needed.
The sauce can be refrigerated up to two days ahead.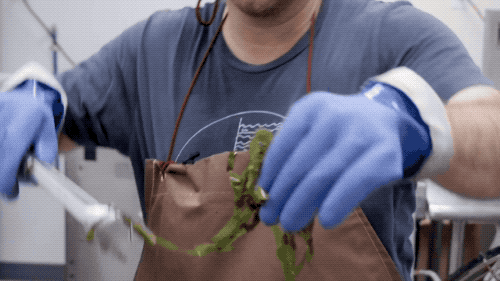 [Try these three recipes for leftover produce.]
Sugar Kelp Lasagna
Serves 12
Ingredients
1 pound of 95% lean ground beef, chicken, or turkey
1 medium onion, diced
3 cloves garlic, minced
1 (28 oz) can crushed tomatoes
2 (6 oz) cans tomato paste
2 (6.5 oz) canned tomato sauce
½ cup water
2 tablespoons white sugar
1 ½ teaspoons dried basil leaves
1 teaspoons Italian seasoning
1 ½ teaspoons salt
¼ teaspoon black pepper
4 tablespoons chopped fresh parsley
12 lasagna noodles
16 ounces ricotta cheese
1 egg
¾ pound grated mozzarella cheese
¾ pound grated parmesan cheese
1 ounce of dried kelp (rehydrated and cut into small pieces) or 1.5 cups fresh kelp cut into long thin strips (about the size of the pasta noodles)
Instructions
Cook ground meat, onion, and garlic over medium heat until well browned. Stir in crushed tomatoes, tomato paste, tomato sauce, and water. Season with sugar, basil, Italian seasoning, 1 tablespoon salt, pepper, and 2 tablespoons parsley. Simmer, covered, for about 1 1/2 hours, stirring occasionally.
If you are re-hydrating the kelp, soak it for 20 to 30 minutes. Rinse 2 or 3 times thoroughly. Drain after each rinse, and squeeze or knead (as if you are working with bread dough) to remove excess salt used in the drying process, and rinse off any hidden sand. Drain well.
If using fresh kelp, rinse the kelp thoroughly under cold water, drain well, and set aside.
Bring a large pot of lightly salted water to a boil. Cook lasagna noodles in boiling water for 8 to 10 minutes. Drain noodles, and rinse with cold water. In a mixing bowl, combine ricotta cheese with egg, remaining parsley, and 1/2 teaspoon salt.
Preheat oven to 375 degrees F (190 degrees C).
To assemble, spread 1 ½ cups of meat sauce in the bottom of a 9×13 inch baking dish. Arrange 6 noodles lengthwise over meat sauce topped with ½ kelp on noodles. Spread ½ of the ricotta cheese mixture. Top with a third of mozzarella cheese slices. Spoon 1 ½ cups meat sauce over mozzarella, and sprinkle with ¼ cup Parmesan cheese. Repeat layers, and top with remaining mozzarella and Parmesan cheese. Cover with foil: to prevent sticking, either spray foil with cooking spray, or make sure the foil does not touch the cheese.
Bake in preheated oven for 25 minutes. Remove foil, and bake an additional 25 minutes. Cool for 15 minutes before serving.
---
Segment Guests
Luke Groskin
Luke Groskin is Science Friday's video producer. He's on a mission to make you love spiders and other odd creatures.
Suzie Flores
Suzie Flores is a kelp farmer based in Stonington, Connecticut.
Segment Transcript
[MUSIC PLAYING]
IRA FLATOW: If you've ever gone fishing in the ocean, chances are you've pulled in what my kids used to call a weed fish, a long, stringy piece of kelp attached to the hook, a really big disappointment and really a nuisance.
But some people don't mind kelp at all, and in fact, some people are making a business out of growing it and putting it on your dinner plate. It's versatile, in that it absorbs the flavors of the food it's cooked with, maybe that's why it's growing in popularity in many restaurants. And now, in New England, you can get kelp from your local kelp farmer.
While it's been a tradition in many Asian cultures for centuries, kelp farming only reached US shores in recent decades. It's growing popularity is also due to its environmental benefits, and it helps clean the oceans.
Our own Luke Groskin set out to discover what was behind this new wave of ocean aquaculture for his latest Macroscope video. He joins us now to talk about it. Hi, Luke.
LUKE GROSKIN: Hi, Ira.
IRA FLATOW: And joining us also is Suzie Flores, kelp farmer from Stonington, Connecticut. She's featured in Luke's video, which you can find on our website at sciencefriday.com/kelp. Hi, Suzie.
SUZIE FLORES: Hi, Ira. Happy to be here.
IRA FLATOW: Nice to have you. Luke, what's the hype behind kelp?
LUKE GROSKIN: Well, Ira, see, the thing about kelp, when you think about plants and crops and you want to be sustainable, you want to think of something that's carbon neutral, that doesn't require a ton of fertilizer, that doesn't harm the environment. Well, the hype about kelp is that it doesn't just do those things it actually helps the environment.
So it absorbs a ton of carbon out of the ocean, which prevents acidification. It sucks up all the nitrogen where it's growing, in the region where it's growing, which prevents algal blooms in the area and keeps the local area free of this nasty unwanted algae.
And then on top of that, it provides an environment for other species to live and thrive. So you have all these little critters feeding on the kelp, and then, in turn, you get the fish that comes to eat those. So you create a little bit of a little microhabitat on your kelp farm. So it becomes a kind of net positive, which is very rare in the agricultural world.
IRA FLATOW: And you went out and visited Suzie's kelp farm?
LUKE GROSKIN: No, I actually visited Bren Smith's kelp farm in Connecticut. Bren Smith is the head of an organization called GreenWave, and he's kind of the guru behind kelp farming. And he took us out on a very misty day. It looks very, very tranquil, your classic New England coastline.
And we get out to the kelp farm, and there's just nothing there. It just looks like a pristine, beautiful coastline with a couple of buoys. And I mean, that, in and of itself, is kind of amazing when you think of a farm. And then they hoist up these lines, and you get eight, 10 feet of what looks like plant matter just dangling off these lines, and it's absolutely gorgeous.
IRA FLATOW: Suzie, so you're a new kelp farmer, right? You've been doing it a couple of years now?
SUZIE FLORES: That's correct. Actually this was our first full year kelp farming. So the harvest that we pulled in in April was our first crop.
IRA FLATOW: What goes– take us through a season. What does a kelp farm season look like?
SUZIE FLORES: Well, I should start at the real beginning, which is the permitting process in order to get a space for you to grow your kelp, and that can take, in the state of Connecticut, in between, I'd say, nine months and 18 months, depending on your timing.
And then, in the fall, we outplant kelp, which was provided to us by GreenWave, that was Bren Smith's organization. And then you allow it to kind of do its thing in the water naturally. You just check on it, make sure that the lines are all still intact, and then you just go out and harvest it in the spring. It's pretty low maintenance, which is amazing.
IRA FLATOW: Yeah if you check out our video at our website now at sciencefriday.com/kelp, and you look at Luke GrOskin's video, Luke, you talk about it in the video, how this is almost the perfect kind of farming. It's very low maintenance, low intensity. It helps.
LUKE GROSKIN: That's right. There's no fertilizer. There's no– I mean, you obviously don't need water so there's no irrigation systems.
IRA FLATOW: You don't need land, either.
LUKE GROSKIN: You don't need land. I mean, Suzie alluded to that, that it's much cheaper to get a permit out in the water than to actually buy a parcel of land or to lease a parcel of land. So the startup is a lot lower.
IRA FLATOW: Suzie, can you sell as much kelp as you grow, and how much do you grow?
SUZIE FLORES: It all depends on the spot where you have your lease set up, but as of right now, we're being asked for more kelp than we have to kind of hand over. So the answer currently is yes. Things can always change.
IRA FLATOW: And what is a crop like, a kelp crop? Is that what it's called? Would you call that? Or what do you call a crop of kelp.
SUZIE FLORES: Yeah, I call it a crop. You can grow thousands of pounds. It depends on the way your farm is set up. At our lease site, we farmed three acres. We had four 500-foot lines in the water. And you have to account for buoy space that's suspending the kelp up, so it can absorb light, and so it's not dropping down to the ocean floor. But we pulled in, in a test year, a couple of thousand pounds of kelp, which was– we call that a success.
IRA FLATOW: Not bad. This is "Science Friday" from WNYC Studios talking with kelp farmer Suzie Flores from Stonington, Connecticut, and Luke GrOskin, our video editor, about a new film, a new video that's up there on sciencefriday.com/kelp.
You know what's interesting, because I also live in New England. We had four nor'easters coming through New England this year. Now, did it wipe out your kelp farm, or what did it do?
SUZIE FLORES: Those nor'easters were a little rough. That's one of the things you have to take into consideration when you're farming kelp. It's not just the– you don't have the access. So if the weather is sketchy or scary, you're worried about your farm, but you can't run out and kind of take care of it in the moment. So that was a bit of a stressor, but we learned a lot about our site there. And we also learned that those nor'easters did not upset our kelp. It grew. We were pulling blades out after nor'easters that were over 12 feet long.
IRA FLATOW: Wow. Let's go to the phones to Oakland. Maybe they have some kelp in Oakland, I have a feeling. Nathan. Hi, welcome to "Science Friday."
NATHAN: Thank you. Yeah I had a question regarding other things it may absorb while its growing, in terms of mercury or other heavy metals. Is that something that the kelp may pick up and end up with the consumer?
IRA FLATOW: Good question. Suzie?
SUZIE FLORES: From what I know, and kelp has been used in sites like the Bronx River, where there's high amounts of heavy metal pollution, and it can help mitigate the water and still be safe for human consumption. And there have been studies done on this, and you'd have to reference them just to see what the maximum levels would be. But it does absorb trace metals. It has zinc, iodine, magnesium, which are actually all good for you when you're consuming them.
IRA FLATOW: Yeah. So it has a lot of good stuff in it and restaurants are interested in it, but it also could be used for other things besides eating.
SUZIE FLORES: Yeah, it can be used as fertilizer, which is a great solution for farmers who want to use an organic fertilizer, because it's all natural. It isn't going to negatively impact the run-off of the farm that they're using.
It can also be used as feed. It can be incorporated into feed for livestock. And I read somewhere that when cows consume kelp, it can reduce the amount of methane that they produce, which is a very interesting side effect and one that my children find hilarious.
IRA FLATOW: OK. So now everybody's interested in kelp farming. How do you get started? Where do you learn about it? If I wanted to do it, what's the best way, Suzie, to go about this?
SUZIE FLORES: Well, there's a lot of resources out there we got our start by working with GreenWave, which was based in New Haven, Connecticut. And they had a ton of resources just on their website for you to look at, and they also have a cohort of farmers that they bring through a training process.
So they kind of get you started, show you the ropes. Show you some of the mistakes that people like us have made in the past, and you go from there.
IRA FLATOW: And this is sort of like the new tofu, right? I mean– Luke?
LUKE GROSKIN: Well, yeah, especially in that it absorbs flavor, whatever you put it in. You put it in soy sauce. It's going to taste like that, whatever you do. It doesn't actually taste like much. So I wouldn't go so far as to compare it to kale, because kale actually has a unique flavor, and so does kelp but not as much. It more absorbs things.
But in terms of the hype around it, yeah, I would say, we always hear about 200 years in the future, we're all going to be eating algae from vats, right? Well, this will be algae in the form of a long blade.
IRA FLATOW: And it's very popular in Asia already, right?
LUKE GROSKIN: Yeah, that's the thing. It's already taken off there. It's already been there for centuries. So the difference between this and that is that it's no longer used as a garnish. It is the main dish.
IRA FLATOW: And if you'd like to see that kelp farming in action, you check out Luke's video on our website at sciencefriday.com/kelp.
Thank you, Suzie Flores. Good luck with your kelp farm.
SUZIE FLORES: Thank you so much.
IRA FLATOW: Kelp farmer from Stonington, Connecticut, and she is the subject of our latest Macroscope video. Thank you, Luke.
LUKE GROSKIN: Thank you.
IRA FLATOW: It's a great video. "Science Friday's" video editor–
Meet the Producer
@

sciencewritr
Katie Feather is a former SciFri producer and the proud mother of two cats, Charleigh and Sadie.