The following are recipes from Scraps, Wilt & Weeds: Turning Wasted Food Into Plenty, by Mads Refslund and Tama Matsuoka Wong.
This week on Science Friday, we're talking with chef Mads Refslund and foraging expert Tama Matsuoka about how to cook with food scraps that many of us would typically throw in the garbage or compost bin. Feeling inspired? Try these recipes that make use of leftover kale, carrot tops, and grapefruit peels.
Kale Pulp Pasta with Torn Kale Sauce
Used Grapefruit Gin & Tonic
Carrot Top Granita
Kale Pulp Pasta with Torn Kale Sauce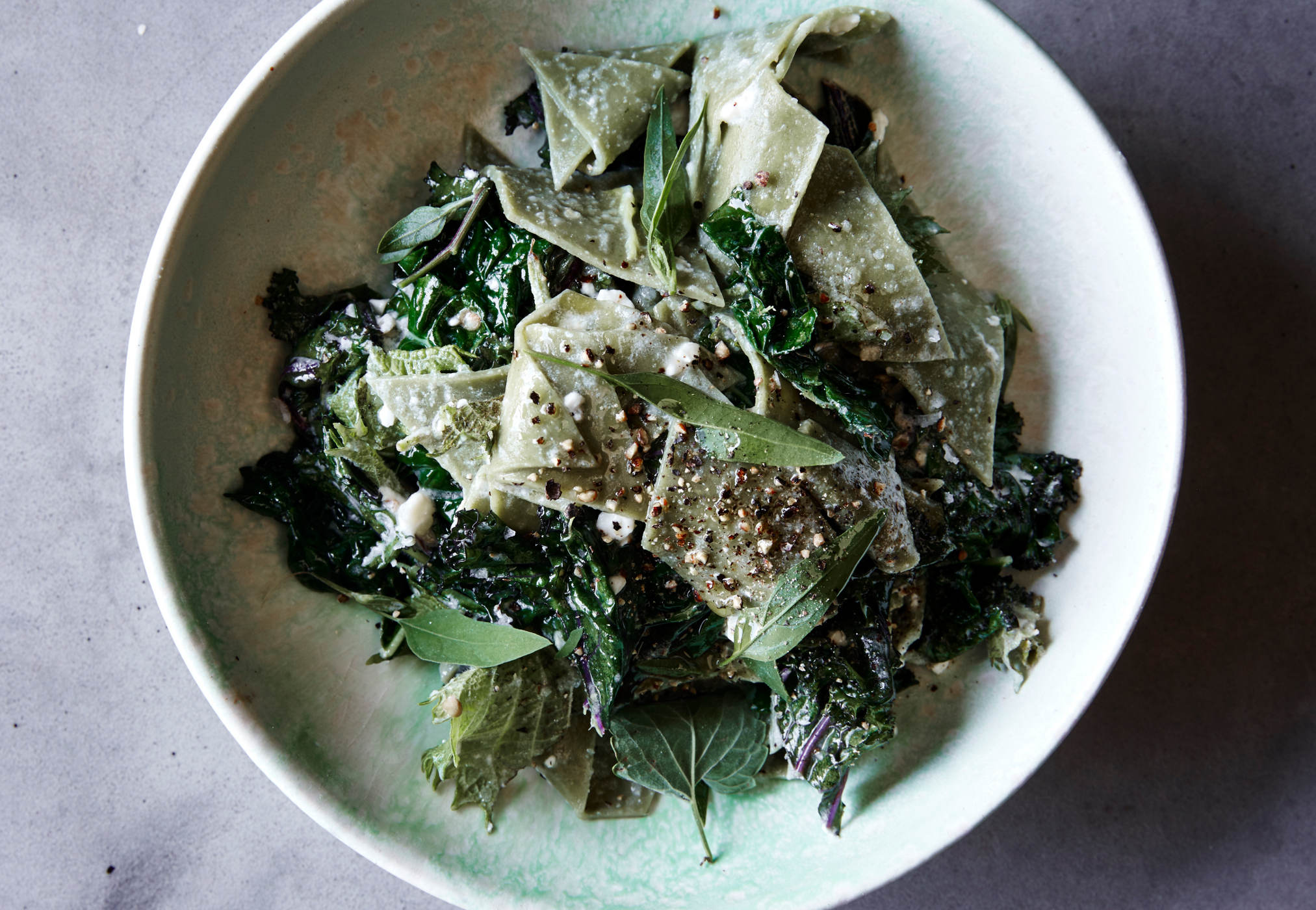 Ingredients
3 cups all-purpose flour, plus additional for dusting
¼ cup Kale Powder (page 73 of book)
1 teaspoon kosher salt
3 whole large eggs plus 3 yolks, beaten
1 tablespoon olive oil
Semolina flour, for dusting
Torn Kale Sauce (page 73 of book)
Fresh herbs, crumbled feta cheese, nuts, and freshly cracked black pepper, for serving
[See the fridge-foraging tips that Tama Matsuoka Wong gave to SciFri Twitter fans.]
Directions
• In a medium bowl, combine the flour, kale powder, and salt. On a lightly floured surface, make a well out of the flour mixture and pour the eggs and oil into the center. Gradually incorporate the sides of the well into the eggs, working in more flour until the dough is moist but no longer wet. Knead the dough by hand for about 20 minutes, until firm to the touch, adding flour if the dough is too sticky and drops of water if too dry. (Or use a food processor or standing mixer with a dough hook and knead for 5 to 10 minutes.) Wrap the dough in plastic and chill in the refrigerator for at least 30 minutes.
• Dust 2 baking sheets liberally with semolina flour.
• Cut the dough into quarters and press flat.
• Roll each quarter (keeping the remaining quarters of dough wrapped) several (about 3) times through a pasta rolling machine, starting at the thickest setting, and adjusting to progressively thinner settings, until 1⁄ 8 inch thick (on most pasta machines, either the last or second-to-last setting is best).
• Cut long strips of pasta about ¾ inch wide. You may leave them long or cut into diagonal or other shorter lengths. Gently toss the cut pasta in the semolina flour so they stay separated and coated.
• Repeat with the remaining dough quarters.
• Bring a large pot of salted water to a rolling boil. Add the pasta and cook for 90 seconds, until still chewy. Drain.
• In a large bowl, toss the pasta with the kale sauce.
• Taste for seasoning. Finish with herbs, feta, nuts, and a few turns of freshly cracked black pepper.
Serves 4 / Active Time: 1 HR / Inactive Time: 30 Min
Kale Powder
In general, powders are a great way to preserve and concentrate flavors and waste less. If you get used to dehydrating wasted parts and set up a storage pantry to keep them, you can grind and make your powders with minimal time before using. Experiment with your powders as if they were an edible chemistry set. Kale powder can be used as a vegetable spice to sprinkle over potatoes, chips, salads, and pasta.
Ingredients
1/2 pound kale pulp (about a 1/2-gallon bag), left over from home juicing or from a local juice bar
Directions
• Use a dehydrator, or if you don't have one, preheat the oven to the lowest temperature, preferably 110°F.
• Spread the pulp out in a thin layer on a flat baking sheet or screen. Dehydrate at 150°F for 4 hours, or overnight in the oven at 110°F, until completely dry and crispy.
Store in an airtight container without direct exposure to light. When ready to use, grind in a spice or coffee grinder into a fine powder.
Makes about 1 cup / Active time: 15 Min / Total time: 4 HRS or overnight (depending on your dehydration process)
Used Grapefruit Gin & Tonic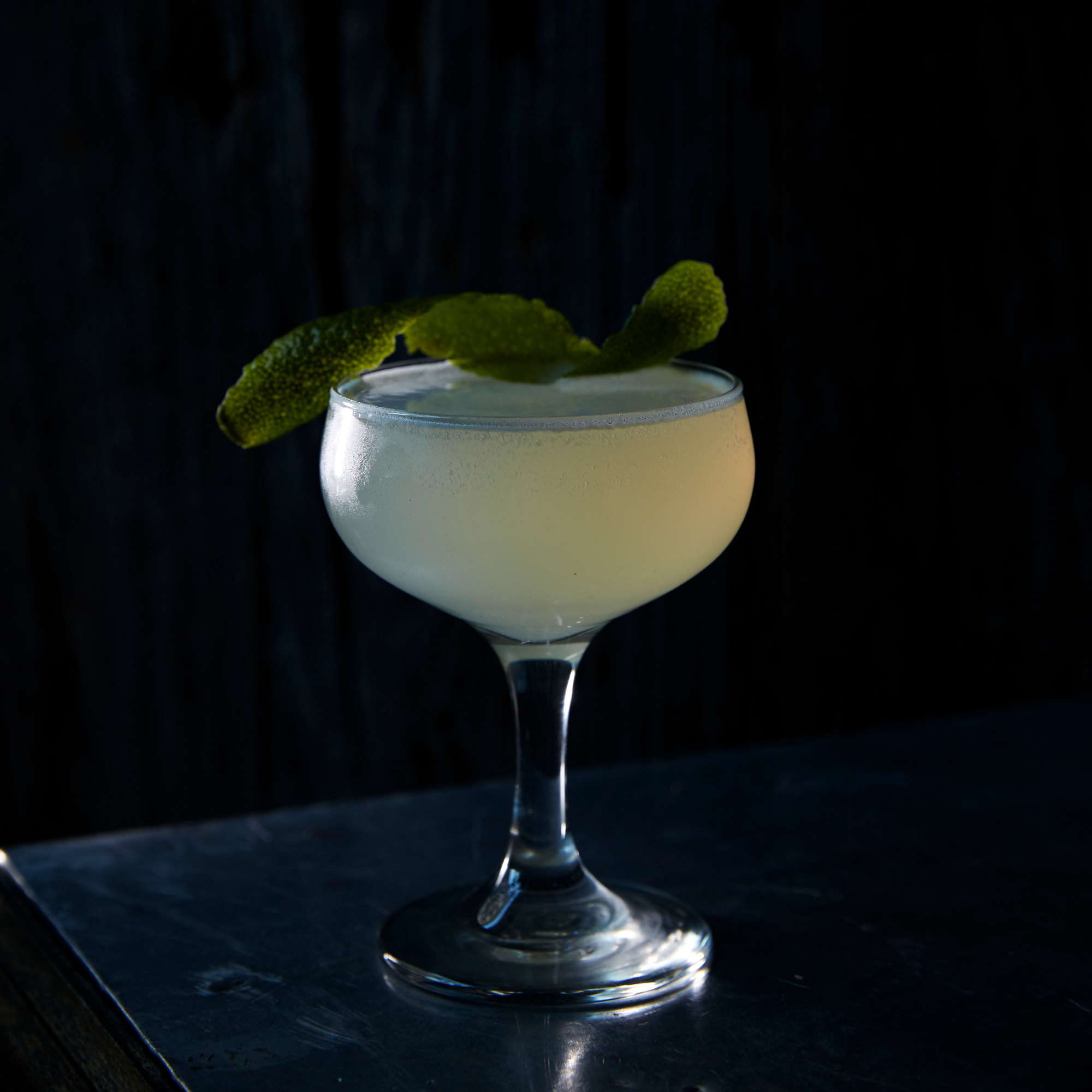 The sweet tang of grapefruit syrup replaces the tonic for a refreshing and natural twist on the classic G&T. I developed this and all the other cocktail recipes in this book with Michael Reynolds, co-owner of the downtown New York City bar Black Crescent (and formerly of the iconic Booker and Dax cocktail bar). You can find several other unique cocktails that we developed together on the following pages.
Ingredients
2 ounces (1/4 cup) gin
¾ ounce (1 ½ tablespoons) Used Grapefruit Syrup
½ ounce (1 tablespoon) lime juice
¼ ounce (1/2 tablespoon) simple syrup (1 part sugar dissolved in 1 part water)
Ice
½ ounce (1 tablespoon) soda water
Directions
In a shaker, combine the gin, grapefruit syrup, lime juice, and simple syrup. Fill the shaker with ice and shake vigorously until the contents are completely chilled. Pour the liquid through a fine-mesh strainer into a coupe glass. Top off with the soda water.
Makes 1 cocktail / Time: 5 min
Used Grapefruit Syrup
Most people eat a grapefruit by cutting out each pink fleshy segment with a knife. Left behind for the garbage are the peels, the membranes, even a fair amount of flesh, and the juice. Save them all for this syrup, which can also be made into a vinaigrette for salads or vegetables.
Ingredients
Flesh scraped from 2 leftover organic large grapefruit halves
2 grapefruit peels (1 inch square each)
1/2 cup grapefruit juice, squeezed from the halves
1 cup sugar
1/2 cup water
Directions
• In a medium saucepan, combine the grapefruit flesh, peels, and juice with the sugar and water. Bring to a boil, then turn down the heat to low. Simmer for 5 minutes until the syrup starts turning slightly brown and is reduced to about 1 cup.
• Remove from the heat, let cool, and strain.
• Compost the solids and store the syrup in the refrigerator for up to 15 days.
Makes about one cup, enough for 15 cocktails / Time: 20 Min
Carrot Top Granita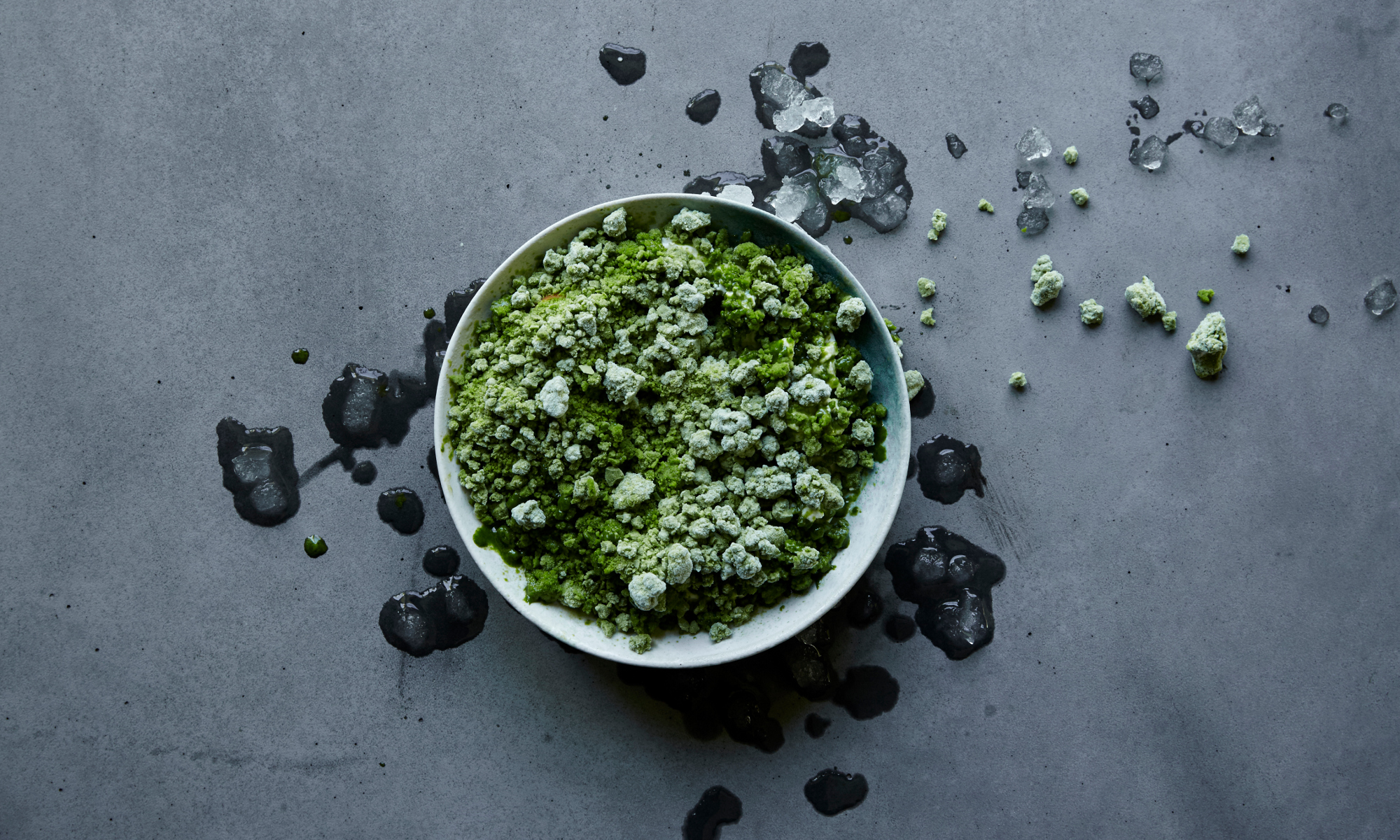 Who says that vegetables have to be savory? I like to use them to make an icy granita to use as a base for dessert, as in pairing with a light yogurt cloud and some sweet and softened fruits. Because the granita method uses vegetables that are chopped, pureed, and then frozen, it is good for rough or tougher textured vegetables. Carrot tops work beautifully, as do beet tops, wheatgrass, and sorrel. In fact, I use this recipe to make a wheatgrass granita for my Fallen Fruit Dessert, page 95.
Ingredients
2 cups sugar
2 cups water
2 cups chopped carrot tops (or other vegetable tops)
1 cup loosely packed chopped fresh parsley, including stems (if you have less or more parsley, it is fine; don't go out and buy an extra bunch if you only have enough for ½ cup)
¼ cup freshly squeezed lemon juice
3 tablespoons vodka (optional, to keep the granita from turning to ice if you plan to store it longer than a day)
1 cup Whipped Yogurt (page 209)
10–15 Carrot "Raisins" (page 49), or other dehydrated fruit
[A chef and a forager share tips for repurposing food scraps.]
Directions
• In a medium pot, combine the sugar and water and bring to a boil, stirring until the sugar is dissolved. Add the carrot tops and parsley, reduce the heat to low, and simmer for 3 minutes, until just cooked. Transfer to a blender, add the lemon juice, and blend for a few minutes to a smooth puree.
• Transfer to a shallow metal container at least 8 X 8 X 2 inches, add the vodka (if using), and freeze for 3 to 3 ½ hours, scraping periodically with a fork so that the granita is evenly frozen.
• To serve, crush any remaining lumps in the granita. Fill each of 4 wide shallow bowls with ¼ cup whipped yogurt and dot the yogurt with the carrot raisins. Top each with 3 heaping tablespoons of the granita.
Serves 4 / Active time: 20 Min / Total time: 3 ½ Hrs (including freezing time)
Carrot "Raisins"
This technique turns old, limp carrots into sweet treats. Enjoy them alone as a snack, in granola, or atop a carrot cake or other dessert.
Ingredients
1 1/2 cups sugar
1 1/2 cups water
8 or more unpeeled medium carrots, cut into 2-inch long barrels about 1 inch in diameter (if larger, extend the cooking time)
Directions
• Use a dehydrator or, alternatively, preheat the oven to 150°F.
• Line a baking sheet with parchment paper.
• In a medium pot, bring the sugar and water to a boil and simmer until the sugar dissolves. Reduce the heat to medium, add the carrots, and cook for 6 minutes, until the carrots are tender. Let the mixture cool for another 2 minutes, then drain. (Reserve and refrigerate the liquid; it can be used to rehydrate the carrots or to sweeten other dishes.)
• Place the carrots in a single layer on the baking sheet. Dehydrate or dry in the oven for 8 to 10 hours, until they are completely dry and no longer feel rubbery. They should look like 1-inch-long batons. The "raisins" can be stored in an airtight container for several months. To use, rehydrate in a little warmed syrup.
Tester's Note:
The carrots take a while to dehydrate and they reduce in size significantly, so drying a larger amount at one time will be a more efficient use of oven or dehydrator space.
Makes approximately ½ cup dried / Active time: 15 min / Inactive time: 8 to 10 hrs
Whipped Yogurt
This chilled yogurt is like a fluffy cloud; it works well in the Carrot Top Granita (page 49) as well as other light desserts.
Ingredients
1 cup heavy cream
2 egg yolks
2 tablespoons sugar
1 gelatin sheet (I recommend leaf gelatin sheets with 200 bloom for the most consistent firmness), softened in cold water for a few minutes
2 cups plain yogurt
Directions
• In a medium saucepan, heat the cream over medium heat for 5 minutes, until hot to the touch. In a large bowl, mix the egg yolks and sugar, then whisk in the heated cream. Once incorporated, pour the contents of the bowl back into the pot. Cook over medium heat, stirring continuously, for 3 minutes, until the mixture is slightly thickened and coats the back of a wooden spoon.
• Squeeze out any excess water from the gelatin and whisk into the warm custard. Pour the custard into a bowl and fold in the yogurt. Chill in the refrigerator for at least 30 minutes.
• Right before serving, whip the yogurt mixture with a mixer for 1 to 2 minutes, until light and fluffy.
Makes 4 1-cup servings / Time: 1 HR
---
Excerpted from the book Scraps, Wilt & Weeds: Turning Wasted Food Into Plenty, by Mads Refslund and Tama Matsuoka Wong. Copyright © 2017 by Mads Refslund and Tama Matsuoka Wong. Reprinted with permission of Grand Central Life & Style. All rights reserved.
Meet the Writers
Mads Refslund is a chef and is co-founder of Noma in Copenhagen. He's also co-author of Scraps, Wilt & Weeds: Turning Wasted Food into Plenty (Grand Central, 2017). He's based in New York, New York.