SciFri web producer Chau Tu is in Austin, Texas, for South by Southwest. Below, she shares snippets from various sessions she attended at SXSW Interactive: 
We're All Related. The (Big) Data Proves It
"Everyone is married to their cousin if you go back far enough."—AJ Jacobs, author
Author AJ Jacobs is on a quest to meet all 2,500 of his "DNA cousins." After submitting his DNA sample to genomics company 23andMe, he discovered through the company's analysis that he shares some sort of DNA with thousands of other people (2,556 is the average number for any human, according to the company). He's organizing what he calls the biggest family reunion in the world in New York City in June, inviting everyone to get their DNA analyzed and learn about their own heritage and cousins (you might, in fact, be one of his!). 23andMe's own Joanna Mountain and Katarzyna Bryc say they study people's DNA to see how traits and diseases are passed down through generations, and they've come across fascinating data tidbits, such as that 2.7 percent of humans have some Neanderthal genes.
The Rise of Social Robot
"There's so much fear around A.I."—Mark Stephen Meadows, chief strategy officer at Geppetto Labs
Mark Stephen Meadows—the chief strategy officer at Geppetto Labs, which creates digital avatars—spoke about the obstacles to making trustworthy virtual assistants, a la Apple's Siri or Geppetto's own "doctor" Sophie. A specialist in developing realistic and natural voices for these robots, Meadows spoke on a panel with robot maker Alex Reben, filmmaker Tiffany Shlain, and entrepreneur Andra Keay about the uncanny valley—the concept that non-human features cannot be made to seem too human, or else we'll think them creepy—and how animators and robot developers are continually coming across this problem. The amygdala, Shlain said, is the part of the brain that responds to danger—and also the part responsible for the repulsion we feel in the uncanny valley.
A.I. State of the Union
"Mistakes are fundamental to how we learn."—Monica Anderson, CTO, Sensai Corporation
Leaders and experts in artificial intelligence shared their thoughts about how the technology should advance. Monica Anderson, CTO at Sensai Corporation, argued that she thinks computers have to get to the point where they can learn about and approach the world autonomously, in the way that a human child or teenager would. The president and CEO of Cycorp, Doug Lenat, said one of the major things holding backing A.I. is developing context. "You as a human understand the context [of a given situation], the ideology behind it," he said. "This is the key intellectual challenge that symbolic A.I. has to grapple with."
Moonshots and Reality
"If you want to make a lot of progress, you have to make a lot of mistakes."—Astro Teller, Google[x]
Google[x]'s "Captain of Moonshots," Astro Teller, spoke to a packed room about the giant tech company's experimental arm, which developed Google Glass and is working on projects like the fully autonomous car. The biggest takeaway from Teller's talk was undoubtedly the benefits of failing: "Failing doesn't have to mean not succeeding," he said. The key is to control the failures and keep them focused, so you can learn from each of them. It's also important to get out in the field and actually workshop experiments; the Google Glass and its Explorers program is an example of this. The only problem with Glass as an experiment, Teller said, was promoting the project as a finished product.
Cracking Cuisine: Breaking a Few Rules (and Eggs)
"It's really hard to feel sorry for yourself if you work with Stephen."—Nathan Myhrvold, co-creator Modernist Cuisine, speaking of theoretical physicist Stephen Hawking
Former Microsoft CTO Nathan Myhrvold is perhaps now best known for his revered cooking tome, Modernist Cuisine: The Art and Science of Cooking, but he once studied the fundamentals of space and time at Cambridge University under none other than theoretical physicist Stephen Hawking. Myhrvold spoke briefly about how much he admired Hawking for his positive demeanor: "He's really funny. He loves telling jokes. He's upbeat." As for Modernist Cuisine, he approached the writing of it as he would a piece of software, harkening back to his days working at Microsoft. "There are very few great pieces of software that are written by one person," he said. The book, too, was a collaboration with his team. "That's how the book was written."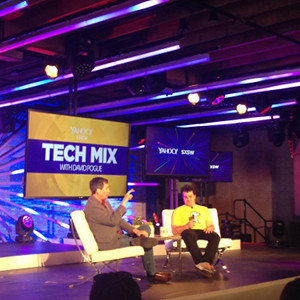 "We only expect the users to ask themselves if it's exciting enough for a shared experience."—Ben Rubin, co-founder, Meerkat  
Yahoo!'s tech writer David Pogue sat down with Ben Rubin, the co-founder and CEO of Meerkat, an app that allows users to live-stream video to the public from their phones. Meerkat has reached popularity only in recent weeks—it just hit 100,000 users this past weekend—and Rubin admitted they were still working on improved features, like trying to allow users to search streams more easily. But he said part of the point of the app is to make it easy and accessible for everyone. For one, the app doesn't allow users to save videos after the live-stream: "Losing permanence helps get people comfortable with live streaming," Rubin said. "It's a little step outside of your comfort zone. Our moms and aunts should feel comfortable to live-stream their kid's soccer game" to their families and not worry about the video later.
Emotion and Inclusion in Wearable Tech Design
"Emotion is essential to future engineering."—Alastair Somerville, director, Acuity Design
One of the keys to successful wearable design is emotion, said Alastair Somerville, an expert in sensory cognition. Nowadays, we keep devices like phones very close to our bodies; in turn, we can become emotionally attached to them. It's important for developers, then, to consider the emotional and social connection people can have with technology. Somerville cited the lighted apple symbol on the back of Macbooks as one genius design because it exudes warmth and comfort. The Fitbit, on the other hand, is dark, hard, and doesn't welcome interaction and sociability between the user and the device, he said.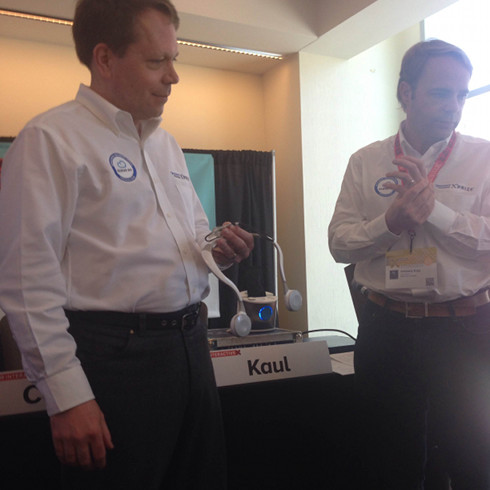 Science Fiction Becoming a Reality
"The difference between sci-fi and fantasy…sci-fi is plausible."—Robert Kaul, president and CEO, Cloud Dx
Robert Kaul, president and CEO of start-up Cloud Dx, addressed how science fiction has greatly influenced innovation. For instance, Star Trek, he says, has individually served as inspiration for a number of inventions and concepts, including transparent aluminum, limb regeneration, and voice-activated computers. As part of the XPRIZE competition, Cloud Dx has developed a modern medical tricorder that was an important device in Star Trek. This new gadget, the VITALITI, is meant to be worn continuously for 72 hours and can track EKG, blood oxygen, posture, calorie consumption, and other vital health statistics that are sent to an app on the user's phone. (Hear Mr. Spock's take on the relationship between science and science fiction in the SciFri episode below, featuring Leonard Nimoy.)
The Future of Privacy
"Your mobile phone, I think, ought to have a higher level of privacy."—Blake Farenthold, Texas House Representative 
Texas House Representative Blake Farenthold was one of three members of Congress (including California's Darrell Issa and Washington's Suzan DelBene) who addressed growing concerns about data and privacy, and who expressed their thoughts on future policies, including the reform of the Electronic Communications Privacy Act. Regarding a person's cell phone, Farenthold added, "To me, it should have the same protection as a person does—perhaps even a higher level." (For more on data and privacy, listen to this SciFri segment.)
Meet the Writer
@

chaubtu
Chau Tu is an associate editor at Slate Plus. She was formerly Science Friday's story producer/reporter.