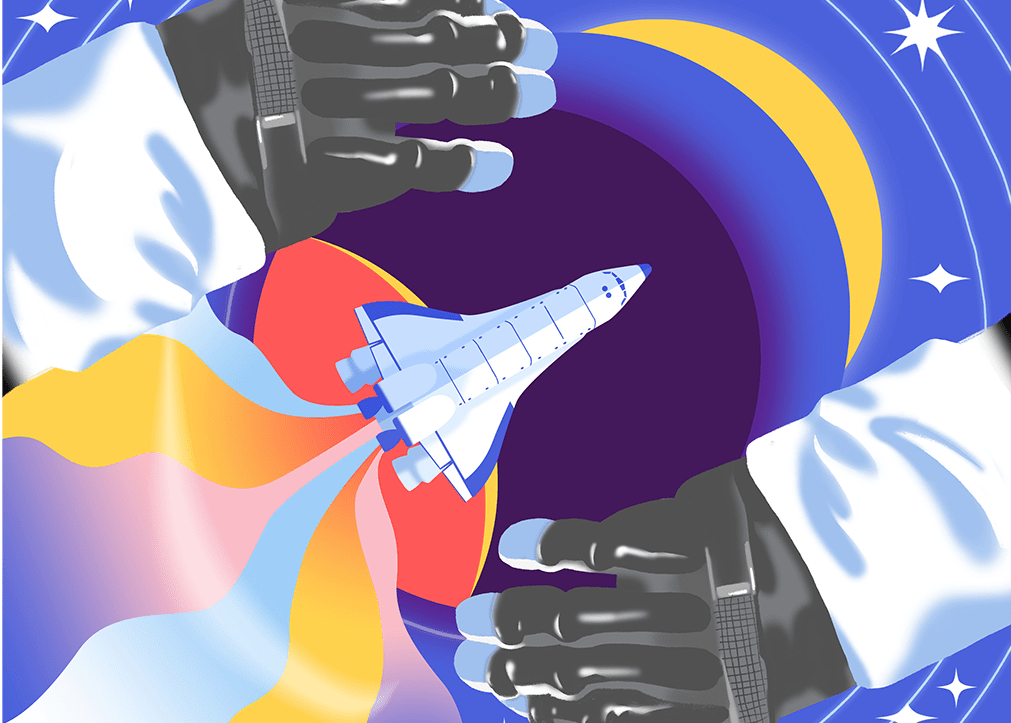 Digital Producers at Science Friday develop and maintain Science Friday's digital presence and foster positive digital experiences for millions of Science Friday fans. The job of the Digital Producer – Engagement is to present a unified appearance and great user experience to digital audiences; creating the online vision for our stories and acting as the digital shepherd for Science Friday content.
This role involves collaboration with other departments on visual storytelling and multimedia packages designed specifically to build audience relationships and engagement. You are responsible for manifesting on the web and in newsletters Science Friday's off-air audience development activities, content, and programming in an accessible, usable, and appealing way. The Digital Producer – Engagement leverages Science Friday's journalistic content, sourced visuals, clever copywriting, and thoughtful design to further engage and recruit diverse audiences. This work blurs the lines between digital and social media, taking a creative, iterative, and experimental approach to connecting science stories and experiences meaningfully to the lives of subscribers and followers. The success of these efforts will be measured by quantitative indicators of audience engagement across platforms, as well as with soft measures of pride, interest, and sharing by other stakeholders (classrooms, stations, scientists). This role reports to Science Friday's Director of Audience and works closely with other members of Science Friday's audience and editorial teams, leading newsletter strategy and building an outstanding visual experience for special projects (fundraising, series launches, event promotion).
Responsibilities include:
Digital Production
Uses WordPress CMS to publish all content associated with off-air programming to Science Friday's website, including formatting images/visuals, embedding related multimedia and transcripts, and copyediting and formatting text for consistency and style
Helps manage developers, designers, and engineers to maintain Science Friday's website, storage, archive, and technical platforms
Uses knowledge of HTML, CSS, and Javascript to diagnose and integrate quick fixes to our WordPress site
Implements best practices to ensure a smooth and accessible user experience on Science Friday's website, troubleshooting and improving individual pages as needed
Identifies and pitches stories or newsletter series with the potential to be developed into multimedia projects across platforms, with an emphasis on digital and social spaces
Serves as a liaison between different SciFri teams and our developers to fix ongoing website problems and create new features
Multimedia Asset Management
Leads brand asset management and implementation across for all online audiences, managing for consistency, accessibility, and appeal
Leads visual multimedia asset development to complement on- and off-air programming, digital storytelling, social media, newsletters, fundraising, education, and experiences
Recruits and coordinates multimedia freelance artists for special projects or deliverables
Works closely with other members of the digital and engagement teams to find, curate, license, and publish multimedia assets to support audio representation of stories on the web
Identifies and modifies digital assets for online content at Science Friday
Checking copyright usage
Editing photos, branding, images, and event posters using Adobe Suite
Contributing to visual and design strategy on various cross-departmental projects
Creating social-ready videos, using apps like Headliner or Adobe Premiere
Managing digital assets, licenses, and attribution in a digital asset database
Adapts audio for the web with tools like SoundCite, Soundcloud, Audiograms and more
Recruits, screens, and contracts freelance artists for visual elements and graphics
Newsletter Wrangling
Leads the production of Science Friday's newsletters by building on the written content provided by program leads with visuals, formatting, and optimizing newsletter subjects and frequencies on a publication cycle
Works with authors to shape branding, layout, visuals, linking, and voice to suit different newsletter audiences, frequencies, and content streams
Implement best practices approaches to improve newsletter performance, working closely with content, community, and experience leads regularly
Reviews newsletter analytics to evaluate performance and refine newsletter strategy, working closely with other members of editorial and engagement teams
Editing
Edits internal copy for clarity, style and fact-checking (i.e. web pages for radio segments, original articles, education content, video pages, donation pages, occasionally funding opportunities) and helps coordinate freelance copyediting support when necessary
Works closely with audio producers to find, license, and marshal multimedia assets to effectively represent their reporting to an online audience in a way that is engaging, discoverable, and leads to deeper engagement
Keep the SciFri style guide updated, particularly as it relates to image use, crediting, and accessibility
Crafts attention-grabbing (and responsible) headlines for web articles, utilizing SEO
Works with the Community Manager to ensure that digital content is accurately represented in a timely fashion across social media platforms for maximum impact
With direction from the program managers, builds asset libraries for social media promotion of content, experiences, programs, and fundraising efforts
Audience Development Strategy
This position will work closely with other members of the audience team by:
Creating strategy plans to maximize the reach and impact of produced stories
Participating in brainstorming sessions and opportunities to identify new audiences
Thinking creatively about new ways to integrate audience and community voices into stories (via our SciFri VoxPop app, listener emails, social media, surveys, and direct interviews and in-person interactions)
Identifying opportunities to improve the representativeness, inclusiveness, and accessibility of Science Friday's perennial digital content
Integrating audience feedback into future reporting and storytelling
Identifying opportunities to represent and serve local communities with our work
Surveying traffic analytics on Pars.ly, Google Analytics, social media platforms, and report these numbers back to teams and utilize these numbers to inform future reporting
Qualifications
Two or more years of multimedia publishing experience, ideally in a journalistic or marketing environment
Comfortable with copyediting following a style guide
Experience using image editing software (e.g. Canva, Photoshop) to produce marketing or social media materials
Demonstrated success in creating native, engaging digital content that has deepened engagement and expanded reach
Experience using digital engagement metrics to drive decisions and future digital strategy
Familiarity with HTML and content management systems, WordPress familiarity preferred
Familiarity with Mailchimp and newsletter strategy preferred
Demonstrated ability to work as part of a team with patience, kindness, empathy, and a sense of humor
Experience supporting or managing social media content for a brand or organization a plus
Salary Range
$55,000 – $68,000 based on experience.
Please apply with your resume, cover letter and links to relevant work samples here.
This is an immediate vacancy. Please submit your application by February 27th at 11:59pm PST, 2022. Interviews will be conducted on a rolling basis until the position is filled. Candidates should be prepared to participate in multiple interviews.
Additional Information:
Due to the COVID-19 pandemic Science Friday (and this role) is operating in a hybrid capacity where all employees can work remotely or from our Manhattan office. However, this position is not a permanent remote position and is part of the New York City staff. This role is expected to work fully from the New York metropolitan area and office when it is safe to do so.
Commitment to Diversity, Equity & Inclusion:
Science Friday is an equal opportunity employer and is committed to diversity, equity, and inclusion. SciFri operates with the knowledge that both journalism and learning benefit from a broad range of perspectives, from all backgrounds. Diversity is essential to honest, trustworthy, accurate storytelling and promotes a healthier, happier, and more creative atmosphere. Science Friday strives for creating an institution in which all voices are encouraged, valued, and heard.
All qualified applicants will receive consideration for employment without regard to race, color, religion, sex, age, national origin, protected veteran status, disability status, sexual orientation, gender identity or expression, marital status, genetic information, or any other characteristic protected by law.
About Our Workplace:
We have a flexible leave policy that easily accommodates religious holidays, travel vacation, personal and parental leave, and sick days. We close our offices twice a year for a week for whole-staff recharge time (mid-year in July and in December for a winter break). We do not work on Thanksgiving or the Friday after.
Our building has a secure lobby with a fully handicap accessible entrance and key card elevator service. We have a flexible open office with adjustable standing desks, adjustable chairs, and large external monitors; our office also includes a small recording studio, lounge area, and a handful of flexible separate offices and conference rooms.
We use headphones a lot during the work day. We are really into office plants.
We provide 401K matching, health, vision, and dental coverage, mental health support, an FSA, and often get great science and scifi books to read for free.
We work with lots of other professionals and artists (like Gica Tam, who created the above feature image for one of our education resources) to make our science storytelling sing.