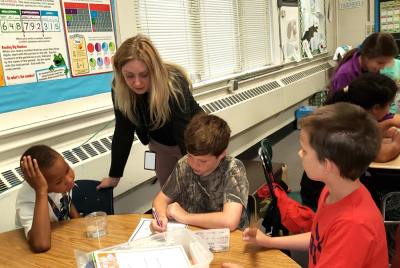 Amy Philyaw
Educator Collaborator
Amy Philyaw is the director of Patterson Science Center, a department of Caldwell County Schools, in Lenoir, North Carolina. She is a Kenan Fellow who spent 14 years as a high school science teacher. She received her bachelors of science in Education from Western Carolina University in General Science with a concentration in Biology. Amy completed her National Board certification in Adolescent and Young Adulthood Science in 2004. She holds three masters of education in Middle School Science, Curriculum and Instruction, and School Administration, all of which were earned at Appalachian State University. She has also served as the director of Patterson Science Center since 2012. During her tenure at PSC, she has received over $1 million in grant funds and developed over 40 curriculum models interwoven with STEM.
Beyond her educational career, Amy has three children: a daughter, Emilee Bradley, a son, Grayson Bradley, and a stepson, Tommy Philyaw. Amy and her husband, Seth, enjoy getting away on weekend excursions while riding through the country on a Harley Davidson Street Glide.

Educational Resource
Students will consider the impact the Great Pacific Garbage Patch on the environment and marine life—and design a waste-catching device.
Read More