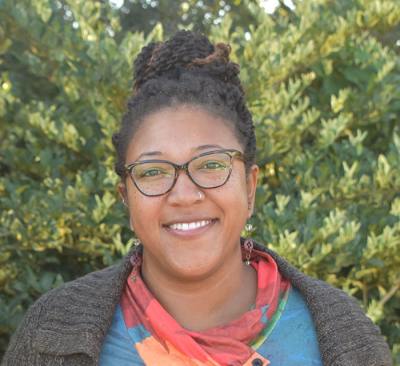 Chenille Williams
Educator Collaborator
Chenille H. Williams has been spreading her excitement about the natural world as an environmental educator for nine years. As the education program coordinator for Richland County Stormwater Management in Columbia, S.C., she teaches students, professionals, educators, and homeowners about water quality issues and how to prevent surface water pollution through a blend of workshops, presentations, and community partnerships. Much of her work involves talking extensively about dog poop as a source of E. coli impairment in waterways (Fun fact: dog poop contains 3 times more bacteria than people poop!) and using games as a way to encourage behavior change.
Chenille spent several years researching wetlands while earning her Masters of Earth and Environmental Resources Management from the University of South Carolina, where she learned the value of creative problem solving while working in the middle of the woods. Her literal blood, sweat, and tears resulted in a scientific journal article on groundwater fluctuations in isolated wetlands that noted the significance of sublevel soil type in determining groundwater movement. She transferred her fieldwork experience into teaching by writing Tessa's Tale, a water quality workbook that guides students and educators through water quality monitoring using a story of how the habitat of a rainbow trout is affected by human impact.
Outside of being an educator, Chenille is a visual artist, tribal fusion bellydancer, and loves learning about the fermentation process of kombucha while creating new flavor blends.

Educational Resource
Model a bioretention cell! Experiment to understand how microplastics are getting in the ocean—and the ocean food chain.
Read More

Educational Resource
Not all soil is the same. Explore soil texture and structure in this hands-on investigation, then predict how soil health will be affected by climate change.
Read More