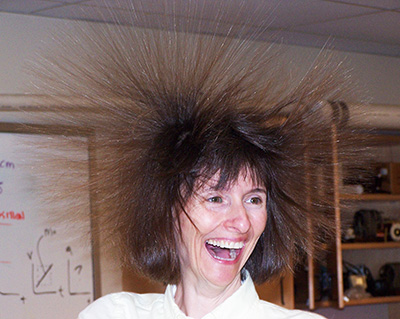 Susan Romano
Educator Collaborator
Susan Romano is a 20-year veteran high school teacher who never gets tired teaching physics to her students at Keene High School in New Hampshire. She's also a physics adjunct instructor at Keene State College, where she teaches an activity-based physics class using a guidebook she authored.
An accomplished pianist, Susan enjoys creating physics demos set to great pieces of music. For instance, her favorite inertia demo involves eggs, water, tubes, a pizza pan, a hat with orange horns, a broom, and Wagner's Ride of the Valkyries (you've got to see it to believe it). Her students love building rockets and are regularly found out of their seats, doing science.
Susan has a bachelor's in biology with a minor in physics from Barnard College (Columbia University) and a master's concentration in cognitive sciences from Dartmouth. She spends ridiculous amounts of time writing and vetting inquiry-based classroom activities that support self-directed learning.
A culinary aficionado, Susan loves to cook, bake, and feed people good food. She's been buying and preparing organic/humanely-treated/sustainably-grown food for way longer than it's been cool.

Educational Resource
Build a delta kite and explore some of the forces involved in flight. Challenge your design skills to improve your kite's stability in the air.
Read More