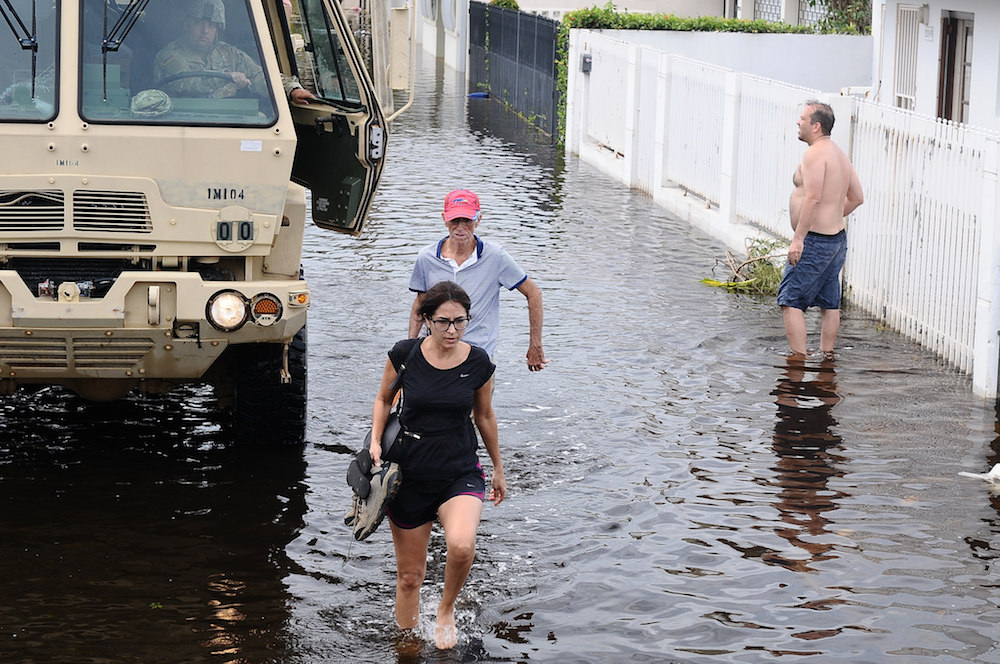 Puerto Rico's 3.4 million residents continue to wait for fuel, water, food, medical supplies, and for the lights and phone lines to come back on in the wake of last week's devastating landfall of Hurricane Maria. The growing list of damages is raising concerning questions: Is aid arriving fast enough to ward off a deeper humanitarian crisis? How will supplies be distributed with power out and communications down?
[Is extreme weather the new normal?]
Disaster researchers Jennifer Santos-Hernandez of the University of Puerto Rico, and Jose Holguin-Veras of Rensselaer Polytechnic Institute, share what past disasters like Hurricane Katrina and the 2010 earthquake in Haiti can teach us about the best recovery processes and likely outcomes as Puerto Rico digs out.  
[How to build a flood-proof skyscraper resilient to climate change.]
Plus, Nicholas White, senior vice president of the Universities Space Research Association, gives an update on the astronomical observatory in Arecibo.
Officers tell me they are already getting calls for rescue, but it's too dangerous to go out #PuertoRico #hurricanemaria #cnn pic.twitter.com/FkJjjtdaRI

— Leyla Santiago (@leylasantiago) September 20, 2017
Catastrophic flooding in #PuertoRico from the #HurricaneMaria this morning. Please stay safe.. #severeweather #MariaPR #MARIA Source: FB pic.twitter.com/nOUaluDY2X

— WEATHER/ METEO WORLD (@StormchaserUKEU) September 21, 2017
An island with no electricity means gas lines will become part of everyday life… hopefully, gas supplies will be enough. #PuertoRico pic.twitter.com/3F4cNMFeUZ

— Gadi Schwartz (@GadiNBC) September 22, 2017
#PuertoRico officials say it appears as though 100% of the island is without power. The grid is totally offline. #HurricaneMaria pic.twitter.com/j77L8UZLPW

— Gadi Schwartz (@GadiNBC) September 20, 2017
---
Segment Guests
Jennifer Santos-Hernandez
Jennifer Santos-Hernandez is a research professor and sociologist at the University of Puerto Rico in San Juan, Puerto Rico.
Jose Holguin-Veras
Jose Holguin-Veras is a professor of Civil and Environmental Engineering at Rensselaer Polytechnic Institute in Troy, New York.
Nicholas White
Nicholas White is Senior Vice President for Science at the Universities Space Research Association in Washington, D.C..
Meet the Producer
@

ctaylsaurus
Christie Taylor was a producer for Science Friday. Her days involved diligent research, too many phone calls for an introvert, and asking scientists if they have any audio of that narwhal heartbeat.