This week, more than 1,800 student scientists from 80 countries converged in Phoenix to present their projects for Intel's International Science and Engineering Fair, a competition founded by the Society for Science and the Public.
Ira chats with two of the finalists. Colorado high school junior Krithik Ramesh came up with an idea for a real-time virtual tool for surgeons doing spinal surgeries, and Arizona high school freshman Ella Wang, along with her partner Breanna Tang, cooked up an innovative use for waste from soybean food products—enriching depleted farm soils.
SciFri continued the discussion below with Ramesh, Tang, and Wang. Read below!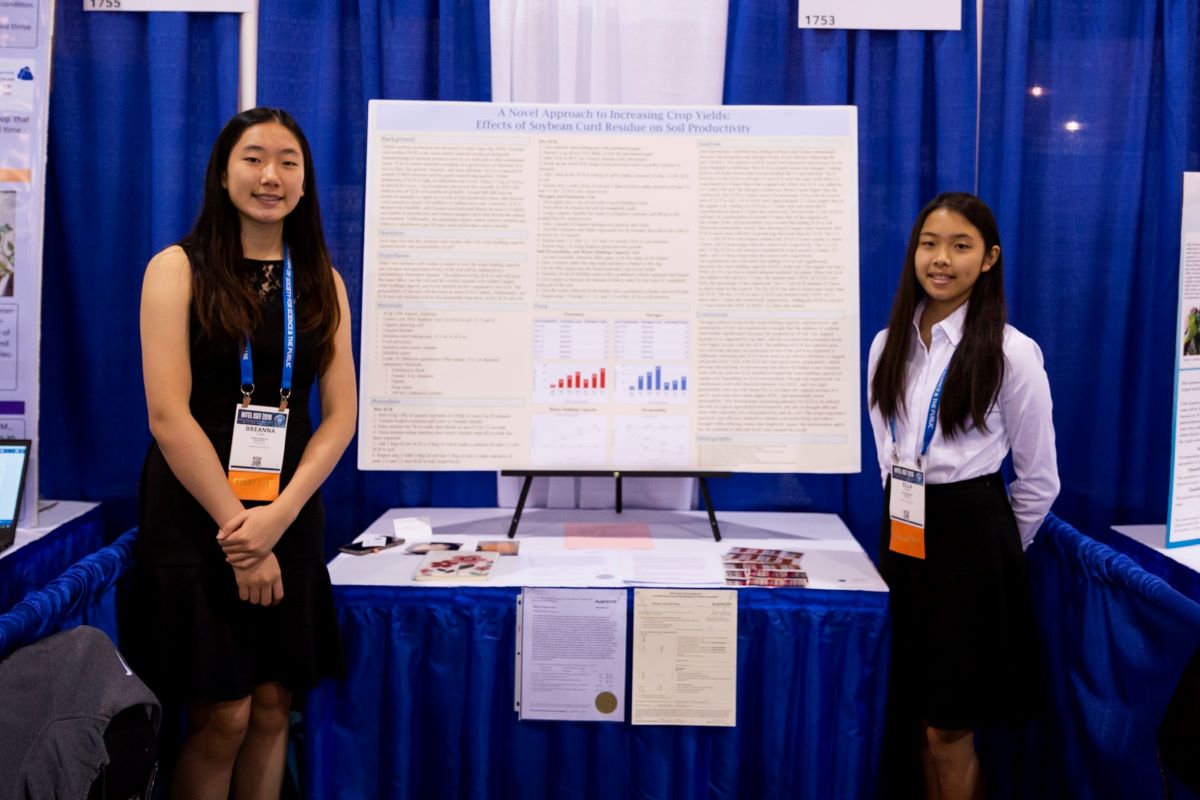 Breanna Tang and Ella Wang
What is your project?
Soybean curd residue is the main byproduct from the manufacturing of soybean products such as soy milk and tofu. A few hundred million tons of soybean curd residue are generated annually. This residue is considered a waste material and threatens the environment when dumped into landfills, as it releases methane, an extremely potent greenhouse gas.
Our project explored the potential of utilizing soybean curd residue to enhance soil productivity and crop yields. We found that adding the residue to soil raises nitrogen and potassium levels, significantly increases water holding capacity, and decreases soil permeability. By enhancing soil productivity, our project presents a practical, cost-effective method to improve crop yields and resistance to drought, which has the potential to overcome food crises around the world.
What inspired this project?
Ella Wang: My mother makes soy milk at home, and I noticed that she would throw away large quantities of soybean curd residue in the process, which inspired me to look into the properties and composition of the residue to see whether the waste material could be used in a more effective manner. I also participate at Feed My Starving Children, where volunteers help pack food to send to countries in need. Seeing how people suffered from food crises had a tremendous impact on me and ultimately motivated me to steer my project towards improving crop yields in the hopes of helping alleviate the effects of devastating food shortages.
Breanna Tang: Since I was young, I've been constantly aware of the rapid destruction of the environment. Though there are many organizations dedicated to fighting this, I've always felt as if their efforts weren't enough. I want to be able to aid the world in the mission of protecting the planet, and this project seems like the most effective way for me, a 14-year-old, to contribute. Soybean curd residue, a waste material, poses major environmental problems as it putrefies very rapidly, therefore releasing methane. Through this experiment, we came up with a cost-effective, practical idea of applying soybean curd residue to farmlands to reduce both waste and its extremely detrimental effects on the environment.
Give us a fun fact about you.
Breanna Tang: I've played the violin for five years now.
If you could have dinner with any scientist (living or dead) who would it be and why?
Ella Wang: If I could have dinner with any scientist, I would definitely choose to have it with Marie Curie. I did a project on her in the fifth grade and was completely astounded by her research and its implications. She was (and still is) one of my biggest inspirations, constantly reminding me of how science can change the world. Curie first motivated me to pursue studies in science, and it would honestly just be incredible to get to know such a talented scientist.
Krithik Ramesh
What is your project?
I developed a live-time navigation for surgeons to use to fix spines that eliminates the current system of navigation called fluoroscopy which harms patients due to its radiation emission. This uses machine learning to predict spine behavior and then help the surgeon perform surgery.
What inspired this project?
The idea started with a dance video game. In the dance game, I was playing singer Shakira's song "Hips Don't Lie" and was trying to figure out how the motion tracking system worked to mimic a player's motions. Once I had a general understanding of its motion mechanics, I wondered if I could apply it to radiology images of spines to predict their biomechanics.
Give us a fun fact about you.
Late at night when I'm thinking, doing homework, or just procrastinating, I like to dance around my house with pop music blaring!

Donate To Science Friday
Invest in quality science journalism by making a donation to Science Friday.
Segment Guests
Krithik Ramesh
Krithik Ramesh is a junior at Cherry Creek High School in Greenwood Village, Colorado.
Ella Wang
Ella Wang is a freshman at BASIS Chandler School in Chandler, Arizona.
Meet the Producers and Host
@

ctaylsaurus
Christie Taylor was a producer for Science Friday. Her days involved diligent research, too many phone calls for an introvert, and asking scientists if they have any audio of that narwhal heartbeat.
@

laurenjyoung617
Lauren J. Young was Science Friday's digital producer. When she's not shelving books as a library assistant, she's adding to her impressive Pez dispenser collection.
@

iraflatow
Ira Flatow is the host and executive producer of Science Friday. His green thumb has revived many an office plant at death's door.