Ice is nice, and freezing stuff starts to sound especially pleasant when the days get hot and long. Scientists and engineers think it's neat to freeze things too. For example, some researchers study strange ice formations on Earth so that they can look for it on other planets, some engineers craft the perfect ice for speed skating, others engineer special freezers just for simulating conditions on Jupiter's' moon Europa. Even artists use ice as a medium!
For this Science Club, we challenge you to create, invent, or engineer something frozen that's totally cool.
It's the Science Club Freeze Challenge:
Use your freezer to make something neat.
All you have to do is:
Engineer, invent, craft, carve, build, or make something totally unique and totally frozen.
Share your frozen creation with the hashtag #SciFriSciClub on Twitter, Instagram, or by submitting your creation using the form below.
You can create anything frozen for this Science Club challenge. Check out the project ideas, submissions, and frozen inspiration below, and get freezing!
Ice Challenge Highlights!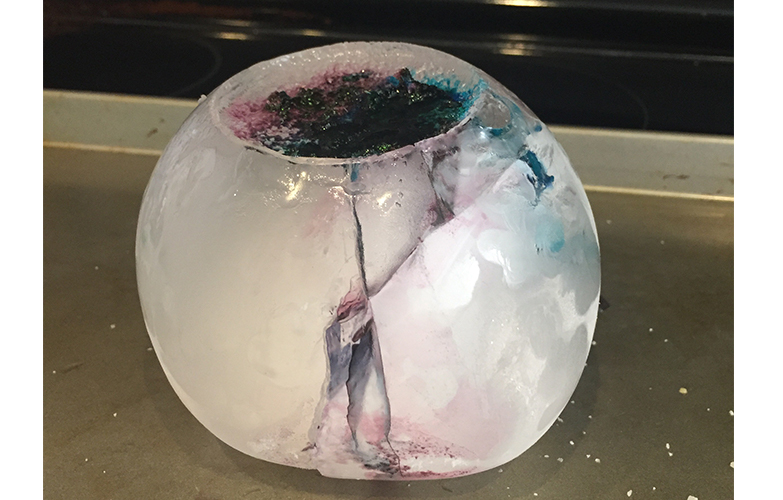 "I made an ice fidget spinner. I used the plastic that a fidget spinner comes in as the mold and the bearing to make it spin." – Sarah, Sterling, MA
Frozen Project Ideas
---
Make Supercool Fruit Pops
Freeze Challenge Inspiration
Related Segment
Ice Science a Slippery Quandary for Physicists
Related Article
The Mystery Of Ice Spikes
Related Segment
Crafting the 'Fastest Ice on Earth'
Meet the Writer
@

arieloquent
Ariel Zych is Science Friday's director of audience. She is a former teacher and scientist who spends her free time making food, watching arthropods, and being outside.