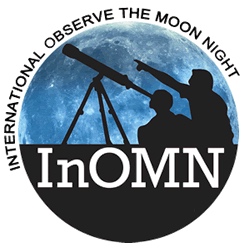 International Observe the Moon Night
International Observe the Moon Night (InOMN) is an annual worldwide public event that encourages observation, appreciation, and understanding of our Moon and its connection to NASA planetary science and exploration. Everyone on Earth is invited to join the celebration by hosting or attending an InOMN event—and uniting on one day each year to look at and learn about the Moon together. InOMN is sponsored by NASA's Lunar Reconnaissance Orbiter, NASA's Solar System Exploration Research Virtual Institute (SSERVI), and the Lunar and Planetary Institute. Visit www.observethemoonnight.org to find information about how to host, register, and evaluate your InOMN event, look for an InOMN event near you, find lunar and planetary science and exploration resources, and share pictures and highlights from InOMN.

Educational Resource
In this resource from International Observe the Moon Night, use water balloons to model how the moon's largest impact basins were created.
Read More

Educational Resource
Observe the moon each day for one month, map the moon's features, simulate lunar impacts, and explore lunar science in this resource from NASA's International Observe the Moon Night (InOMN), an annual worldwide celebration of lunar science and exploration.
Read More