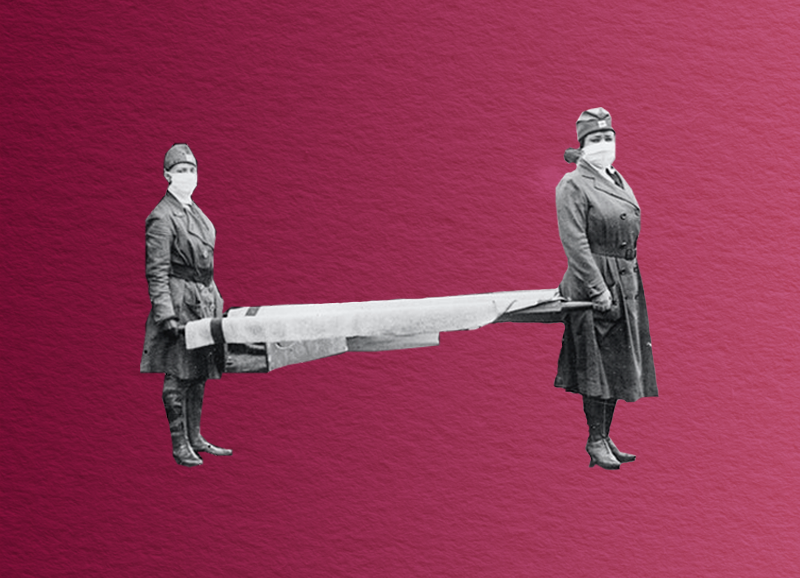 Science Diction is a bite-sized podcast about words—and the science stories behind them. Subscribe wherever you get your podcasts, and sign up for our newsletter.
---
---
In the fall of 1918, Philadelphia newspapers announced that a new virus had arrived in the city, the so-called "Spanish flu." But the facts and scope were muddy and uncertain, and the city decided to push forward with a highly-anticipated parade. About 200,000 people showed up, and packed onto sidewalks.
Halfway across the country, St. Louis, Missouri looked very different that fall. Businesses shuttered, movie theatres went dark, and students stayed home. Just like today, cities across the U.S. responded to the 1918 influenza pandemic differently—with very different results. 
In this episode, we go back to 1918 and a pandemic which wasn't Spanish at all.
---
---
Footnotes And Further Reading:
Credits:
Science Diction is hosted and produced by Johanna Mayer. Our producer and editor is Elah Feder. We had additional story editing from Nathan Tobey, and fact checking help from Michelle Harris. Our composer is D Peterschmidt. We also included audio from "The Liberty Loan March," performed by the United States Marine Band, which is in the public domain. Special thanks to Alan Kraut, who's worked extensively on the topic of immigration, disease, and prejudice, for speaking with us. And to Chris Naffziger, who spoke to us about St. Louis's response to the 1918 pandemic. You can read more of his reporting for St. Louis Magazine.
Meet the Writers
@

yohannamayer
Johanna Mayer is a podcast producer and hosted Science Diction from Science Friday. When she's not working, she's probably baking a fruit pie. Cherry's her specialty, but she whips up a mean rhubarb streusel as well.
@

ElahFeder
Elah Feder is the former senior producer for podcasts at Science Friday. She produces the Science Diction podcast, and co-hosted and produced the Undiscovered podcast.