You're probably familiar with common stereotypes of scientists. You know, the ones with a solitary white male toiling away in a lab, surrounded by bubbling liquids. Yeah, those. Stereotypes about the types of people who become scientists, as well as where and how science is conducted can discourage young people from taking science, engineering, and math courses, majoring in STEM fields, or pursuing STEM careers.
#ScientistsWhoSelfie Carnivore ecologist flirtin' with elephants! @scientistselfie pic.twitter.com/zubrP9Pk4o

— Mary Burak (@mkburak) August 10, 2017
In this resource, your students will challenge scientist stereotypes in a creative way by "Drawing-A-Scientist," and comparing and contrasting their drawings with scientists' own posts to #ScientistsWhoSelfie on Instagram or Twitter (don't worry, students can participate without a social media account). Students will use scientists' contributions to the #ScientistsWhoSelfie hashtag to challenge perceptions of who scientists are, as well as how, where and why they do what they do. The resource is flexible enough to act as a stand-alone lesson, or it can be used to kick off a theme you revisit throughout the year. This activity is light on directions and materials, highly visual, and gives participants lots of freedom!
Science Stereotypes
Stereotypes oversimplify and exclude. They function to reinforce misconceptions and, without being challenged, can further alienate already underrepresented populations (e.g., Cheryan et al 2013; Kessels 2014; Master et al 2016). Long-standing, pervasive stereotypes of scientists are well-documented (Carli, Alawa, Lee, Zhao & Kim, 2016; Chambers, 1983; Miller, Nolla, Eagly & Uttal, 2018).
It's no surprise that the Framework for K-12 Science Education–the guiding document for the development of the Next Generation Science Standards (NGSS)–explicitly ties its goals to careers in science and engineering. Noting the lack of diversity in these fields, the authors highlight the need for science education to "motivate and inspire a greater number of people—and a better representation of the broad diversity of the American population—to follow these paths than is the case today" (National Resource Council, 2012, p. 10). This activity aims to document, and then push back on student-held stereotypes of scientists by humanizing and broadening students' perceptions of them as a collective group.
Part I: Draw-A-Scientist
The "Draw-A-Scientist" test originated with a landmark study in 1983 that documented a very consistent set of stereotypical characteristics present in children's illustrations of scientists (Chambers, 1983). The Draw-A-Scientist test has since been replicated with thousands of students, across virtually all grades and ages (Miller et al., 2018). The test offers direct visual evidence of students' associations of the gender, race, clothing, and workplace where science takes place. This test is also incredibly simple to administer, requiring only paper and something to draw with. 
Student Prompt: Draw a picture of a scientist doing science! 
The examples below were created by eighth graders in 10-15 minutes. Students should work independently, keep their drawings anonymous, and be encouraged to include as many details about the scientist and the setting as possible (labeling objects is okay). Transition quickly from sharing the prompt to having students begin their drawings, giving as little context as possible in between. Avoid entertaining questions or having students offer traits out loud… and definitely don't show any examples! By limiting additional input, you will help ensure that student drawings represent their own perceptions of scientists.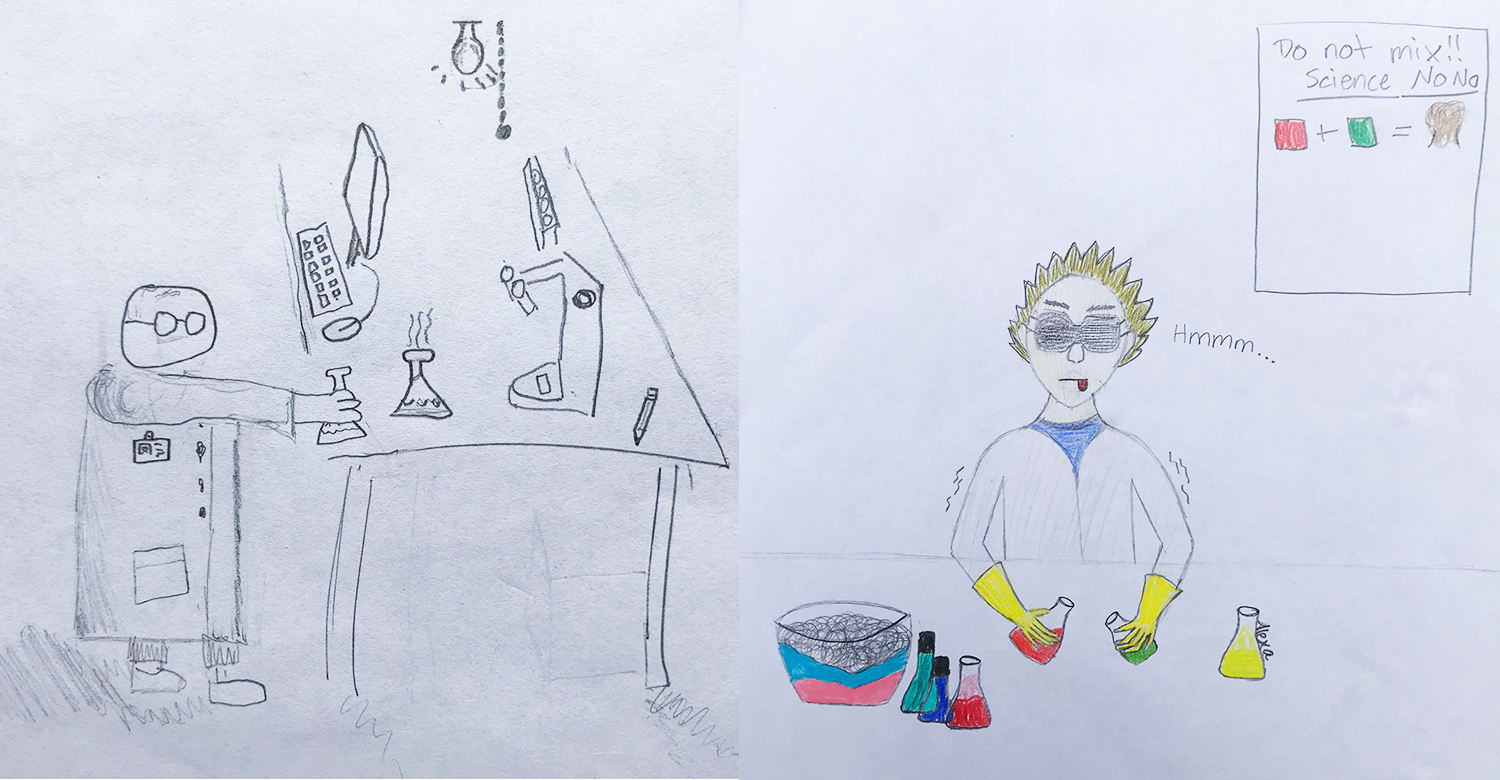 After students have drawn their scientists, display the drawings for a brief and silent gallery walk (2-3 minutes) followed by a group discussion of the drawings.
Discussion Prompts: What similarities are shared across all (or most) of the drawings of scientists? Are there any drawings that are notable outliers? If yes, in what ways (gender, race/ethnicity, setting, etc.)?
Part II: #ScientistsWhoSelfie
The hashtag #ScientistsWhoSelfie began as a way for scientists to share "selfies" with their followers on Instagram and Twitter. The hashtag now has thousands of selfies from scientists across the globe. It was also the impetus for a crowd-funded 2019 study titled–appropriately enough–Using Selfies to Challenge Public Stereotypes of Scientists (Jarreau et al., p. 5). The hashtag is valuable in that it curates selfies of actual scientists, allowing scientists to portray themselves authentically to the whole world, and in this case, your students! 
Student Prompt: Visit the #ScientistsWhoSelfie links for Twitter and Instagram and browse the selfies. Identify one tweet or Instagram post that you found especially interesting. Be ready to share it and why it resonated with you. 
#ScientistsWhoSelfie on Twitter
#ScientistsWhoSelfie on Instagram
I am the #ScientistsWhoSelfie in the foreground, and Hudson Pinheiro is the #ScientistsWhoPhotoBomb in the background! pic.twitter.com/w6oUzufcpk

— Dr. Luiz Rocha (@CoralReefFish) August 10, 2017

We had road-closure and weather ⚡ issues yesterday, but we kicked butt on sampling today. 100 tree cores by @AbigailCLeeper, 110 cone count trees & dbhs w @jster613, & #NSF #REU student Cristian and Evan collected loads of data on tree mortality. #fieldwork #scientistswhoselfie pic.twitter.com/S6cRrjtORH

— Jalene LaMontagne (@LaMontagneLab) July 17, 2019

I partake in #ScientistsWhoSelfie to not only smash the stereotype of what a scientist looks like but to show people my amazing "office" – the ocean! I get to teach about the diversity of #sharks and people… and this interaction enhances my science, not diminishes it. pic.twitter.com/YQGSMOJC74

— Melissa Cristina Márquez (@mcmsharksxx) March 16, 2018

.@scientistselfies, showing the world that real scientists are not just white males in labcoats #scientistswhoselfie pic.twitter.com/tUTEratrP9

— Juanita Rodriguez (@juanita_rodr) August 16, 2017
Share the Twitter and Instagram links with students and provide 15-20 minutes for them to browse scientists' selfies. Encourage students to read the text that accompanies each selfie post, and even the bios of the scientists if they are especially curious. If technology allows, student selections can be shared via another gallery walk, with students viewing selfies their classmates selected on the screens of individual devices. Alternatively, students might contribute screenshots of the selfies they found most interesting to a common document that can be projected at the front of the class. 
– Describe the selfie that you found most interesting. 
– What did you learn about the scientist by viewing their image and reading their post/bio?
– What questions are you left wondering?
Part III: Selfies vs. Stereotypes:
With the benefit of having drawn a scientist, as well as searched #ScientistsWhoSelfie, you're now ready for the best part–comparing/contrasting the selfies and the drawings!
Discussion Prompts: What are some of the most notable differences between the drawings of scientists and the #ScientistsWhoSelfie posts? Why do you think these differences exist, and what impact might they have on young people? the general public? society in general?
If possible, provide the galleries of drawings and student-identified selfies for reference during the culminating discussion. Have pairs of students discuss the prompts before tackling them as a whole class. This will help to include all voices, provide valuable think time and allow students to practice putting their take-aways into words. Also, consider ways that students might capture their thinking and questions for later reference–especially if you are using this learning sequence to kick off a larger theme or unit of study. This could be a brief written "exit slip," a post to an e-portfolio, or even a recorded spoken reflection.
Stereotype-Busting Extensions
– Use this resource as a kickoff to a larger theme or unit of study! The author uses this resource to launch the year-long theme "Science is done, not memorized!" in his class. Questions related to who does science, including where, how, and why, are asked throughout the year.
– Reach out to a scientist whose selfie generated a lot of student interest or questions. Alternatively, connect with other real scientists via "Skype-A-Scientist," a program that pairs classrooms with scientists around the world with online video discussions!
– Challenge your students to make their own #ScientistsWhoSelfie posts while engaging in science activities in your class (with a digital template so that no actual accounts are needed)
– Print out and create a gallery of your students' selfies…these will be fun discussion starters as well as a record of the awesome science that happens in your class!
– In your classroom, prominently display visuals of scientists doing science. The author, for example, has enlarged versions of the winning photos for the 2018 #ScientistsAtWork photo competition in his classroom (with permission). You can also download and print these free, illustrated STEM Role Models posters from Women You Should Know, or this set of Women in STEM posters from Beyond Curie for free.
– Set up your own Twitter or Instagram account to follow scientists and share posts of science being done with your students
– Discuss current events in science frequently with your students, drawing special attention to who the scientists are, as well as the exciting elements related to where, how and why they are doing their science. Find more strategies here.
– For older students, consider exploring experimental design by analyzing the approach used in the actual #ScientistsWhoSelfie study. See interesting related visuals here!
Credits
Resource by Ryan Becker
Editing by Ariel Zych
Digital Production by Ariel Zych, Johanna Mayer
Cover image by an 8th grader at Woodstock Union Middle School, 2019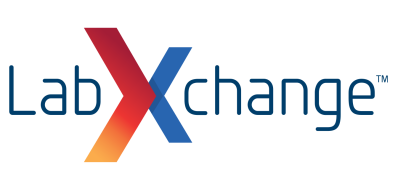 A selection of Science Friday's podcasts, teaching guides, and other resources are available in the LabXchange library, a free global science classroom open to every curious mind.
Meet the Writer

@

physci8
Ryan Becker teaches science at Woodstock Union Middle School in Woodstock, Vermont. A passionate middle level educator for the last 15 years, Ryan constantly looks for ways to nurture curiosity, creativity and problem solving in his classroom. It's not unusual to find his students engineering solar collectors, creating science videos, writing science haikus, and exploring who scientists are, as well as how, where, and why they do what they do.