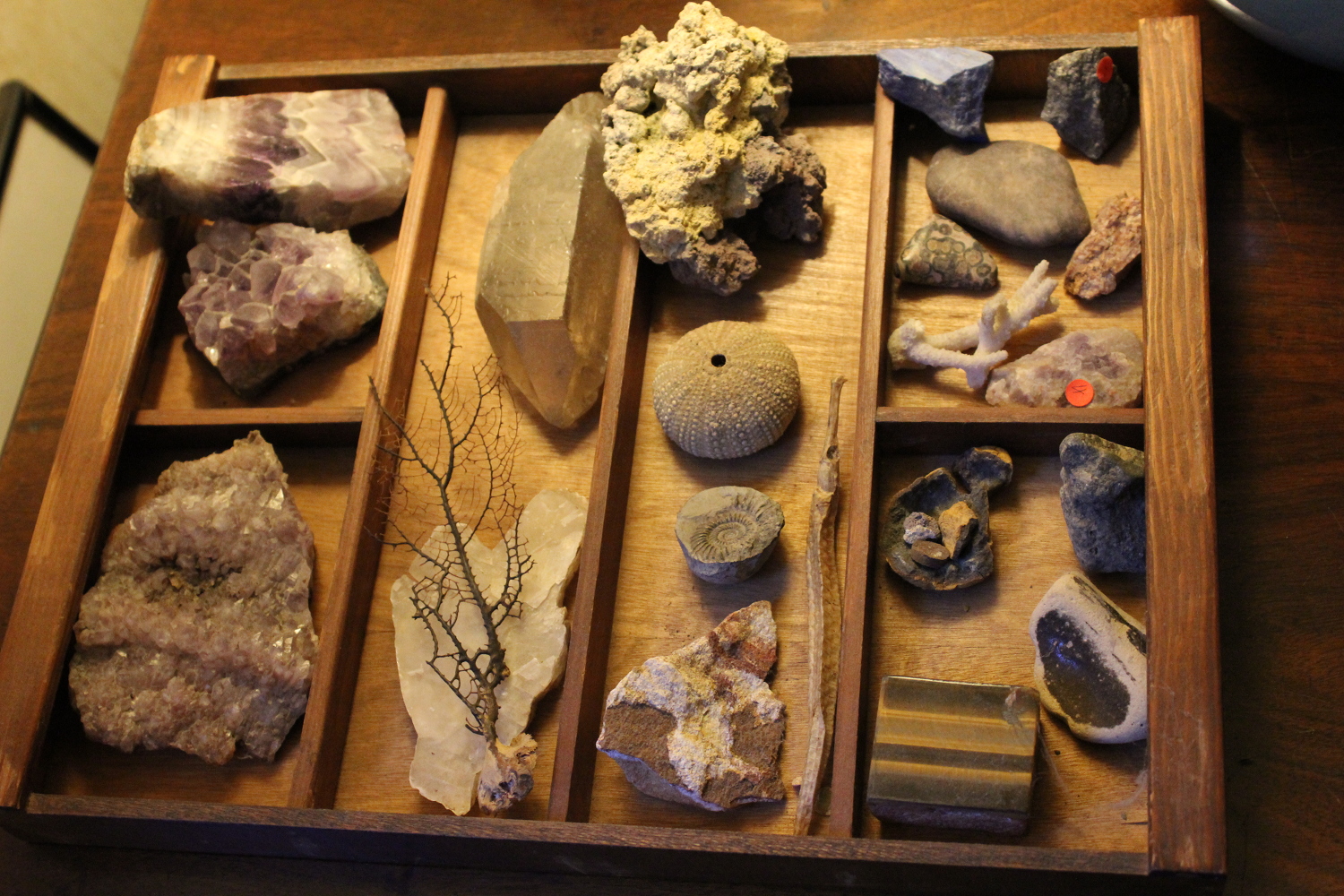 Do you have a rock collection gathering dust in the back of your closet? How about a butterfly "collection" that never grew beyond one or two specimens? Gathering objects from nature might seem like kids' stuff, but author and lifelong collector Gordon Grice says there's plenty of reasons for kids and adults to keep up the collecting habit. For one, he says, it can make you a keener observer—and caretaker—of nature.
Grice joins Ira Flatow to share tips for building your own cabinet of curiosities, including how to pin insects and how to identify that animal skull you found in your backyard. Plus, Field Museum geologist Jim Holstein talks about the museum's annual "Identification Day," where amateur collectors can bring in finds for experts to analyze. But beware! Jim says your meteorite might just turn out to be a meteor-wrong.
[Jupiter wins the moon lottery.]
Plus, read an excerpt from Grice's book Cabinet of Curiosities. And check out some of your natural collections!
@scifri Seaglass, actually. Not natural. But human activity handed back by nature can be lovely. pic.twitter.com/t7DpsWIlrr

— mem_somerville (@mem_somerville) October 22, 2015
@scifri I keep a wisteria seed pod in my desk. Big, cool seeds on the inside, fuzzy on the outside. Fuzzy pods ftw. pic.twitter.com/roGI4T5HYL — I Scream Ridge (@notbangalore) October 22, 2015
@scifri Shed elk & deer antlers! My dogs love chewing on them and my dad turns beautiful pens from them! pic.twitter.com/MUw3qAHeCR

— Amy Engle (@amylinengle) October 22, 2015
@scifri Rocks from space. Meteorites are definitely out of this world! pic.twitter.com/ioP7DpDkuB — Peter Scherff (@PeterScherff) October 22, 2015
@scifri Lepidoptera! pic.twitter.com/zUV1yNuxfR

— Brian Trevelline (@briantrevelline) October 22, 2015
Segment Guests
Gordon Grice
Gordon Grice is a nature writer and author of Cabinet of Curiosities.
Jim Holstein
Jim Holstein is the Collections Manager for Physical Geology at the The Field Museum in Chicago, Illinois. 
Meet the Producer
@

annieminoff
Annie Minoff is a producer for The Journal from Gimlet Media and the Wall Street Journal, and a former co-host and producer of Undiscovered. She also plays the banjo.