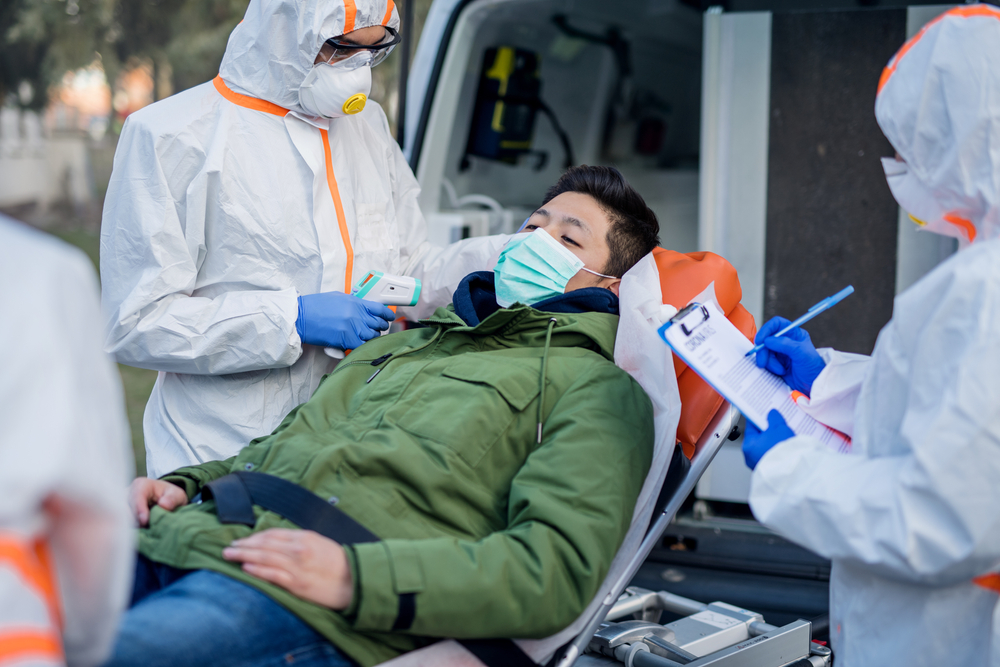 Scientists are continuing to learn new things about the varied effects that COVID-19 can have on patients. This week, a group of researchers observed five younger patients under the age of fifty that suffered from strokes. These patients either were asymptomatic or had mild symptoms. Their results were published online in a letter in the New England Journal of Medicine.
Reporter Sophie Bushwick talks about this story, plus the trauma that frontline healthcare workers face during the pandemic. But it's not all COVID news; we'll also look at new research that shows how you can be identified just by how you walk.
---
Further Reading
Segment Guests
Sophie Bushwick
Sophie Bushwick is technology editor at Scientific American in New York, New York. Previously, she was a senior editor at Popular Science.
Segment Transcript
IRA FLATOW: This is Science Friday. I'm Ira Flatow. This week, the CDC added six new COVID-19 symptoms to its official list. The virus is creating havoc in the body, with new effects appearing that doctors are still trying to understand, like strokes in younger patients who all had the virus.
A group of scientists published their observations this week in an online letter in the New England Journal of Medicine. Sophie Bushwick is here to fill us in on that story and other science headlines. She's Technology Editor at Scientific American. Welcome back, Sophie.
SOPHIE BUSHWICK: Thanks, Ira.
IRA FLATOW: Let's talk about this. So what are the doctors seeing in these patients?
SOPHIE BUSHWICK: So some doctors in the New York area had found that they were seeing people under the age of 50 coming in with strokes at a much higher rate than usual. So they said that during a typical two-week period, they would see, on average, maybe 0.7 people in that age group coming in with strokes. And more recently in a two-week period, they had five different patients coming in. And all of them were also tested positive for COVID-19.
So they think that strokes now could be a symptom of this disease, and that it could also appear in patients whose other symptoms appear to be relatively mild. So this could be related to blood clots. They've noticed that a lot of COVID-19 patients seem to have more clotting going on, and that could be causing these strokes.
IRA FLATOW: And if you've got blood clots, it could be causing other stuff that we really don't even know about yet, perhaps.
SOPHIE BUSHWICK: Oh, that's right. They've found that blood clots heart causing kidney issues, and that there's also been cases of loss of circulation to limbs because of blood clots getting caught there as well.
IRA FLATOW: Researchers released results of a trial of the drug Remdesivir, and the effects were limited, reducing recovery time in patients. Another study came out this week in Nature looking at repurposing an entire catalog of existing drugs, right? They're going through the drugs now, seeing what might work, right?
SOPHIE BUSHWICK: Right. So this is really, really helpful because there are many drugs that have been tested in humans to treat completely different diseases and issues. But because they've been tested like this, we know about their side effects and we know whether they're potentially toxic and what doses are safe. And so that makes them good candidates for testing against COVID-19.
But you don't just want to throw everything at it and see what works. So what they've done is they've looked at proteins in the human cell that the novel coronavirus is using in order to take control of our cells, and they've said, what drugs target these particular proteins? And so based on this, they found 47 different drugs that they tested. And of those, they winnowed it down to 10 different candidates that might be useful for attacking the novel coronavirus and that they might want to continue further testing.
IRA FLATOW: So what are the next steps for the drugs that have been identified as possible candidates?
SOPHIE BUSHWICK: So so far they've only really tested them in kind of a Petri dish-type situation. So they're going to want to test them in humans. And the other thing is that some of these drugs are already being used in clinical trials. Some of them have been FDA approved. But the ones that are still in clinical trials, they'll want to make sure that there's not any side effects that could be even more damaging.
So for example, the drug Hydroxychloroquine has gotten a lot of hype as a treatment, but it also can have really bad side effects and can damage the heart. So when you test drugs like this, you need to make sure that you're not hurting your patient with the drug itself.
IRA FLATOW: There was a tragic story about a New York City emergency room doctor who died by suicide, Dr. Lorna Breen. We're reaching about the second month of the quarantine here in the US, and health care workers have been working through this for just as long. Your next story looks at the mental health impacts of those frontline workers, doesn't it?
SOPHIE BUSHWICK: That's right. The journalist Jillian Mock wrote a story for Scientific American about the psychological trauma that health care workers are going through right now and the fact that this might have repercussions for them even after the worst of the pandemic is passed.
So a lot of ER doctors and nurses will say that everyone has bad days. But what's happening now, in places that are overwhelmed, every day is a bad day. And they're just being exposed to all kinds of stresses that normally they would have time to decompress from, but because of the volume of COVID-19 patients, they're not able to do that.
And so the worry is that during this crisis and afterward, that there are going to be problems like depression and anxiety and insomnia that are going to be further damaging the people who are in the front line against the virus.
IRA FLATOW: Moving on, you have a story looking at a new type of footstep sensor. Tell me about that.
SOPHIE BUSHWICK: So this is really cool. Apparently everyone has a unique way of walking. And you can actually use that to identify people the way you use a fingerprint or a face ID. And researchers have studied this before using wearable sensors like Fitbit or pressure mats that you have to walk across on the floor. And that's great, but you can't really implement that in a widespread way.
So this new line of research is developing sensors that just sit on the floor, and they sense vibrations coming through the floor and the building itself, and they can use that to track specific individuals and to identify them, and even, the researchers say, to identify health problems they might be having.
IRA FLATOW: This sounds like something that you would have for the elderly, trying to see how well they're getting around.
SOPHIE BUSHWICK: That's exactly what the researchers suggest. I mean, they point out that many people who want to live independently but are at risk for falls or for health problems, they don't want to have a camera sitting in the corner of their home. They might not want to wear a sensor or a bracelet or a necklace that senses their steps. But if you could have a footstep sensor in their home, you could pick up when someone starts walking off balance in a way that could indicate something like a stroke, for example. Or you could sense when they take a fall that might need immediate treatment, and even, in some cases, might be able to tell when they are going to fall, when they're off balance in a way that could be dangerous.
IRA FLATOW: Well, it wouldn't be Science Friday without us talking about a dinosaur discovery. A new dinosaur fossil discovery, Sophie?
SOPHIE BUSHWICK: That's right. The Spinosaurus is a swimming dinosaur. And this is really cool because researchers knew about the Spinosaurus for awhile now, and they hadn't found enough of its tail, though.
And so what happened most recently is they found, a few years ago, a fossil that its tail was about 80% complete. And they found that this tail is shaped like a paddle and that it was flexible, so it could kind of undulate through the water like an eel. And before this, they thought that this dinosaur are fish because of the shape of its teeth. But they thought maybe it's like a grizzly bear, standing at the edge of the water and catching fish out of it.
But because of this paddle-like tail, they think this dinosaur actually liked swimming and it could move through the water very comfortably.
IRA FLATOW: So its tail is probably not like the fish, but more like a crocodile or something.
SOPHIE BUSHWICK: Actually, it's shaped kind of like a paddle turned on its side. And then it could kind of like wiggle back and forth from side to side. But yeah, like you say, it wouldn't have had the skin of a fish over it.
IRA FLATOW: That is cool. Thank you, Sophie.
SOPHIE BUSHWICK: Thanks, Ira.
IRA FLATOW: Sophie Bushwick is technology editor at Scientific American.
Copyright © 2020 Science Friday Initiative. All rights reserved. Science Friday transcripts are produced on a tight deadline by 3Play Media. Fidelity to the original aired/published audio or video file might vary, and text might be updated or amended in the future. For the authoritative record of Science Friday's programming, please visit the original aired/published recording. For terms of use and more information, visit our policies pages at http://www.sciencefriday.com/about/policies/
Meet the Producers and Host
@

AlexaLim22
Alexa Lim was a senior producer for Science Friday. Her favorite stories involve space, sound, and strange animal discoveries.
@

iraflatow
Ira Flatow is the host and executive producer of Science Friday. His green thumb has revived many an office plant at death's door.