For over 25 years, Science Friday has been about you—your calls, your questions, your comments. And in that grand tradition, we want to make it easier than ever to hear from you!
We want you to send us your stories ahead of Friday, so we can play them during the show. And with your smartphone, it's easier than ever. Simply record a voice memo and email it to us at voices@sciencefriday.com. Not sure how exactly to do that? Check out the instructions below.
How To Record A Voice Memo
If you have an iPhone, you can use the built-in Voice Memo app. All you have to do is open the app and press the big red button to record.
---
Once you've finished, press "Done," and email the file to voices@sciencefriday.com. It's that simple!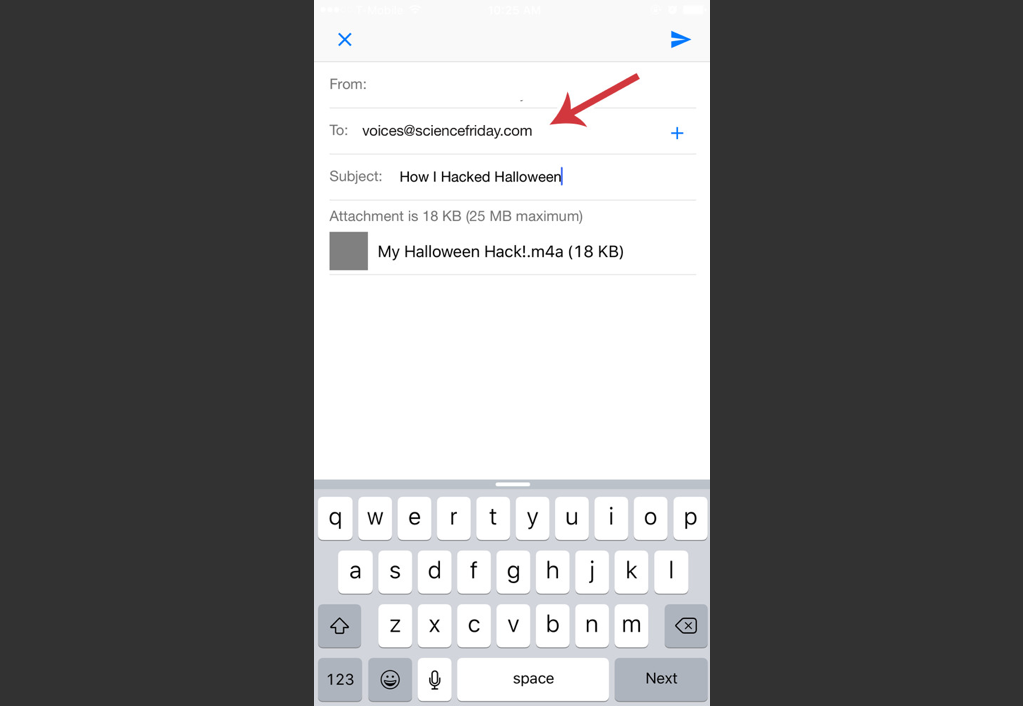 Android users—all you need to do is download one of the many voice recording apps from the Google Play store (like Voice Memos or Smart Voice Recorder) and send your file to voices@sciencefriday.com.
How To Make Your Voice Memo Awesome
Here are some tips:
Try to go somewhere quiet and cozy. The best place to do it is in an enclosed room with the door shut.
Don't hold your phone like a phone! When you're recording, hold your phone flat, at chest level, with the microphone facing you.
Start off by telling us your first name and where you're from. We want to make sure we attribute your story to you!
Keep it short and sweet. We're talking 30 seconds, tops. We're radio folks, and radio is quick!
And there you have it! It's that simple.
By sending your audio file to voices@sciencefriday.com, you consent that the Science Friday Initiative has the right to use the file, your voice, and the submitted story in any form and on any Science Friday Initiative forum, including on the Science Friday radio show, as well as on sciencefriday.com or other electronic media, Internet, wireless or mobile platforms, whether now known or hereafter created.
We can't wait to hear from you!
Meet the Writer
@

bechter
Brandon Echter was Science Friday's digital managing editor. He loves space, sloths, and cephalopods, and his aesthetic is "cultivated schlub."
Comments are closed.